A place to call home? The challenge of integrating Europe's migrants
Comments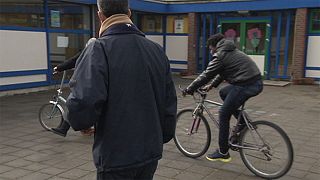 The migrant crisis has brought scores of refugees and asylum seekers to Europe. But what happens after they arrive in the EU? Adjusting to local life is tough for many.
You could argue that the integration of refugees in the past was a disaster. I did a study. It took them five years to get a foot in the labour market
Researchers speak of a "lost generation" – professionals stranded in Europe, not able to integrate into the labour market.
This edition of insiders looks at what efforts are underway to integrate newcomers into countries that a world away from life at home.
Mutea Alshara's pedal power
Mutea Alshara, from Syria, used to organise the movement of trucks across the desert. Now, in the Netherlands and jobless, he helps migrants – like himself – to ride a bicycle.
Mutea has been a recognised refugee for two years.
"Riding a bike is almost free. You just need a bike and that's it. Public transport in the Netherlands is very expensive for us refugees," Mutea told insiders.
"Cycling is good for my health. And I can easily reach shops and schools by bike, I can reach any destination.
"Here, even the rich people use bicycles in everyday life. It doesn't matter if you're poor or rich – cycling is for everyone."
Integration is all about learning written and unwritten rules, cultural and behaviour codes.
Through his bike training, Mutea and his dutch colleague Petra Borsboom are helping new arrivals to get to grips with Dutch society.
"Everyone in the Netherlands knows how to drive a bicycle and it makes you more of a Dutchman when you know how to drive a bicycle," said cycling coach Petra.
Said, a refugee from Somalia, commented: "In Somalia, there are less bicycles around – and there are absolutely no rules. It's clear that traffic and rules are completely different here in Europe. Also for safety reasons, here in the Netherlands we have to know the rules, and to learn them."
Migrants are expected to take an active role in society and neighbourhood activities in the Netherlands and Mutea is keen to become a Dutchman.
Bielefeld: a new home for refugee Fares Khalaf
One million refugees arrived in Germany last year.
Three-thousand-four-hundred of them have been directed to Bielefeld.
Here, insiders meets Fares, who is from Al-Qamishli in northern Syria.
He has got a residence permit, but he is still waiting for recognition of his Syrian driver's licence.
Fares wants to study medicine and he wants to drive for jobs on the side, to fund his university course.
The German Red Cross has set up a special driving school for people such as refugees.
Fares, 23, is still surprised by German rules and road signs.
"If you turn right, you have to turn around your head and have a look over your shoulder, a bicycle could be coming up from behind the car," Fares told us while out on the road.
"In my home region there are no cycle paths, no give way signs, no stop signs. All of this is completely new to me."
Dirk Konert, a driving instructor, DRK Bielefeld, added: "The longer the lesson lasts, the safer you feel. The problem is you lean back and drive with just one hand. We can not sail through the exam like this.
"Just one hand at the wheel looks maybe cool, but just imagine: there's a pedestrian appearing, you will hit him! To turn around the steering wheel quickly there's just one way: with both of your hands."
Fares has joined the "language café," a place recently inaugurated by the municipality of Bielefeld.
Some 2,000 city residents volunteer to work with refugees, helping with language skills for instance.
Fares has a high level of German, but newcomers are still grasping the basics.
"We work a lot with body language, we use a lot of pictures too. But body language is the very essential. In such a language lesson with refugees we move around a lot: learning while standing in a circle or sitting on the floor," explained Mari Ramishvili, language teacher, REGE-Port Bielefeld.
The Dutch way of learning
Back in the Netherlands, the Dutch system combines welfare benefits such as language sessions with possible sanctions, if refugees refuse to make serious efforts.
The local coordinator of the Elycio language school explained how it works.
"Every refugee gets a 10-thousand euro loan from the Dutch government to pay for the lessons and to learn Dutch," said Lonia Troost.
"And after three years, if they pass their exams, this loan will be a gift – and if they don't, they'll have to pay it back."
Past integration a 'disaster'
The key question is how to accelerate the process of integration.
Even highly qualified refugees are without work, a waste of human capital.
One renowned sociologist told insiders that integration has to come early on.
"You could argue that the integration of refugees in the past was a disaster," said Godfried Engbersen, Professor of Sociology & Research Director at Erasmus University.
"I did a study on refugees that came to the Netherlands: it took them five years to get a foot in the labour market. You have to speed up integration in the first three years."
Boosting employment for refugees
Back in Germany, insiders caught up with a special task force in Bielefeld, which is trying to match refugees with employers and to help cut through German bureaucracy.
"It is difficult to integrate refugees into the labour market, frequently there is a lack of professional qualification and language skills. A refugee needs at least four to five years to have the minimal qualification level required," commented Klaus Siegeroth, Director, REGE-Port Bielefeld.
"It's an illusion to believe that in one or two years they will be integrated into the labour market. Believing this is completely wrong."
Fares secures work
Fares got a paid job, helping newcomers fill in forms and papers.
His secret? He already spoke Kurdish and Arabic and dedicated his time exclusively to learning German.
Fares has a message for recently arrived Sipan from Syria – and that is "learn, learn, learn."
Fares shows us the local employment agency. Coloured cards offer work: cooking and cleaning.
It is called the "integration point," a special unit to advise refugees.
Fares has applied to university, but has been rejected.
Ann-Kathrin Zarfl, a job coach, advises him: "I understand that you want to keep on trying to get a place at university to study medicine. But just in case you don't succeed, you could think about professional training.
"You could become a nurse, a carer for the elderly or a medical assistant. You could get some real experience and, moreover, you will substantially improve your chances of getting a place at university later on."
Volunteers put refugees on route to success
While Fares gets advice from a professional job coach based in a public German employment agency, Mutea in the Netherlands gets support from a volunteer job coach.
Coach Simone Ehrencron does not have work, but is full of energy to help refugees.
"I would like you to help, because you are a Dutch woman, you know the mentality of the people here. Maybe you can advise me on how I can get a job," Mutea says to Simone.
"It's important to just keep your motivation up," explains Simone.
"But you do all the right things: we make different CVs, we try to spice it up a bit."
Mutea responds: "I want to be tax-paying, I want to feel to be a citizen in this country."
To make integration work, access to the labour market should be facilitated by all means, the OECD says, and skills should be assessed early.
Many refugees hope to one day return to their homelands to work, but for now Europe is the place they call home. While it is clear there are tough challenges ahead, volunteers and organisations are coming together to try and integrate as many of the new arrivals as possible – and as quickly as possible.
Latest updates from our insiders team