Healing the traumas suffered by refugees at a centre in Milan
Comments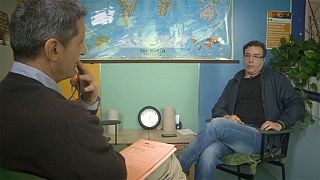 The psychosocial centre of the Niguarda hospital is in a quiet street in Milan. Its ethnopsychiatric service deals with around 300 refugees and asylum seekers.
Jawan is of Kurdish origin. He fled Syria for political reasons 15 years ago. Since then he has seen his family, who live in a refugee camp in Turkey just once.
Jawan Kais lives in a refugee centre in Milan and he is desperate to find work.
"I feel like I'm buried alive, I swear to you, I'm buried alive! I miss my country too. I have to be patient. I also miss my mother a lot. I am disillusioned with Europe, really," he explained.
Jawan says the help he has found here has saved him. It is help which is designed to the specific needs of the foreign patients. Psychiatrists and psychologists work with cultural mediators.
Istarlin Abdulle Yusuf is working with a young Somali woman who was a victim of abuse and torture in Libyan prisons. She suffered too on her journey to Europe after fleeing the conflict in her country. Mediators not only translate, they also help gain the trust of patients.
"As soon as we intervene – there are other mediators, men and women – the people who come here feel they're really welcome, and talk about all their problems," she said.
It's easier therefore for the Italian doctors to establish appropriate diagnosis and treatment.
Psychologists, physicians, psychiatrists, social workers, work together, to take into account all the realities of their patients.
Working with the city services, reception centres, and humanitarian organisations, they also accompany them as they go through their difficult integration process
"Our approach is holistic, with the people we are caring for. Whether from the perspective of mental disorders and physical illnesses that we also encounter. But we have to give them basic social assistance. Because these people are often deprived of any social support, " Carlo Pagani Head of Psychosocial Centre pointed out.
It is support that strengthens the therapeutic approach of the team, which is also multidisciplinary.
Art workshops are designed to free emotions which are sometimes difficult to express in words.
"When they first arrive, they clearly express depressive tendencies. At first they often draw in black and white, and then they begin to use colours," art therapist Eleonora Bolla told Insiders.
War, torture, rape, poverty. Whether linked to the suffering experienced in their countries of origin, on the trip to Europe, or to the hard living conditions they find there, the traumas refugees and asylum seekers have multiple layers. It's not easy to recover. But it's not impossible said Carlo Pagani.
"In general, the resilience, that is, the ability to overcome the crisis, is very strong in these people, who have gone through many difficulties. And probably will still go through a lot. Because it is difficult to say when the journey ends. For some, the journey sometimes will last forever. "
Latest updates from our insiders team
​