The Brief from Brussels: UN's Ban chides Austria over asylum policy
Comments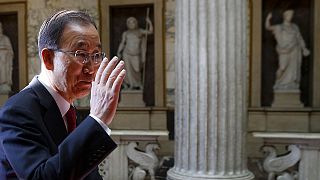 This is the Brief from Brussels: Euronews' daily round-up of the biggest news stories that are making headlines in Europe's capital and beyond.
In this episode: UN chief Ban-ki Moon chides Austria over its new asylum policy; Italian Prime Minister Matteo Renzi is angry over Vienna's plans to build a fence along the border between the two countries; Turkey urges the EU to come good on its promise for visa-free travel for its citizens, and two Turkish journalists are jailed for reprinting Charlie Hebdo cartoons mocking Islam.
Click on the video above to watch Friday's edition.