MEPs to vote on passenger data plan
Comments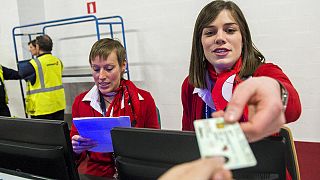 MEPs will vote later on whether to force airlines to share passenger data.
The draft bill has been held up for years owing to data protection concerns.
But the proposed legislation, the so-called Passenger Name Record (PNR) has seen renewed momentum following the terror attacks in Paris and Brussels.
The joint EU system would be accessed by police and judicial officials when trying to tackle organised crime.
Airlines operating flights in or out of EU countries would have to send all details provided by travellers.
Data such as names, addresses and credit card information are already collected.
The EU has previously struck PNR agreements with the United States, Canada and Australia.