Europeans spend over 24 billion euros a year on illegal drugs, new study finds
Comments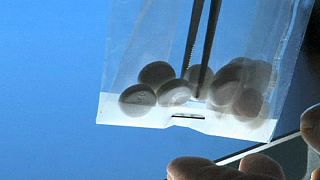 Europeans spend more than 24 billion euros a year on illicit drugs, according to a new report published on Tuesday.
The joint EU-Europol study found that drug trafficking is increasingly connected with organised crime and terrorism.
Cannabis is by far the most consumed drug, which is worth 38 percent of the market, or some 9 billion euros.
Rob Wainwright is the head of Europol, the EU's crime-fighting agency.
He says drug gangs are also involved in other types of serious crime.
"We had the cases of rather enterprising criminal groups that would turn their hands from one day to the next – or from one week to the next -between facilitating a small quantities of drugs being trafficked to getting involved in the migrants smuggling trade and vice versa," Wainwright told reporters in Brussels.
The report also notes that gangs are turning to technology to sell illegal substances.
And many new drugs are also entering the market.
"Last year, we have discovered 100 new psychoactive substances, which means approximately two new substances per week. if you compare with six, eight or ten years ago, it was not even one new substance per week," said Alexis Goosdeel of the EU Monitoring Centre for Drugs and Drug Addiction.
The report also found other consequences of illegal drug trading, such as environmental damage and the corruption of officials