UNHCR: International humanitarian law 'blatantly violated' in Syria
Comments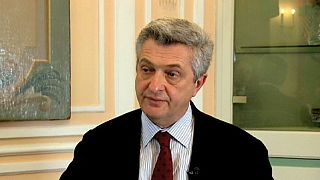 As migrants continue to brave winter weather to reach Europe and the focus turns to Turkey to help stem the flow, euronews has spoken to the UN High Commissioner for Refugees.
James Franey, euronews: "How do you see Europe's handling of this crisis? How would you rate how Europe has handled this?"
Filippo Grandi, UN High Commissioner for Refugees:
"International humanitarian law has been blatantly violated in Syria without much encouragement from any of the supporters of the various parties not to do so.
"That has limited access to populations in need, has increased spillover of refugees into neighbouring countries where in turn inadequate assistance has been provided. That has certainly been one if not the only, one of the factors that has provoked further flaws and then people have arrived in Europe and that has provoked further problems."
euronews: "Now, Europe has talking a lot about strengthening its external borders. Do you think that is the right step?"
Filippo Grandi: "Strengthenening in the sense of having a better management of people arriving, I think is what Europe should have done quite a while ago.
"What i do not think is a good idea is to increase controls of internal borders. That will fragment the response, it will simply divert the flows in other directions."
euronews: "Why is Europe so divided on the refugee issue?"
Filippo Grandi: "The EU expanded enormously in a short period of time. Evidently some of the mechanisms need to be refined.
"One is union solidarity and cooperation in dealing with refugees and migrants. The legislation is good. The norms are good.
"It is often the application of such norms, especially in an unprecedented situation of large arrivals like it is now."
euronews: "What would you say to those people that argue that Europe cannot take in this number of refugees. You see a rise of populism in certain countries such as France and the Netherlands."
Filippo Grandi: "I think that Europe and this is more of a value statement that I am making, needs to remain faithful, loyal to this founding principles.
"I hear many times, oh the arrival of foreigners will affect our values. I think it is the lack of solidarity that destroys our values. That is the real issue.
"If people arriving commit acts against the law, the law has to be applied against them as against any other person. But one should not generalise, these people are fleeing from fear, from terror, from war.
"So those that are recognised as refugees – in keeping with a long tradition of asylum and of hospitality – must be taken by Europe, but in a proper way."