Migrant crisis: EU members told to act with more 'urgency' as Dutch presidency starts
Comments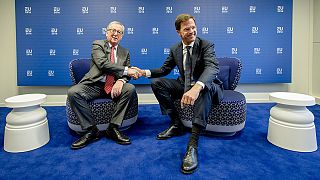 "To be strong, Europe has to be united." The message from Dutch Prime Minister Mark Rutte as he marks the start of his country's EU presidency.
He has been hosting European Commission officials in Amsterdam.
The migrant crisis is set to dominate the six month presidency. The Commission says its far from satisfied with Turkey's cooperation in stemming the flow of people.
Frans Timmermans, European Commission First Vice-President, is calling for more team spirit in the EU.
"I think the political will is increasing but at a very slow rate unfortunately," he said.
"We need a greater sense of urgency frankly, and I hope that some member states who still believe that they can hide away from this, leave it to other member states, will come to realise that this is a problem that can only be solved if everybody takes part in burden sharing.
"And we are not there yet and we know perfectly that some countries don't want to do it, so we need to convince them."
Rutte said that he was "relatively optimistic" that the EU could strike a deal with Britain on reforms at a summit next month. That, ahead of a referendum on Britain's membership.
Rutte is seen as being well placed to handle the negotiations.
"He (Mark Rutte) could be the bridge for some months at least between Cameron and Merkel, and he could do some proposals which makes it easier to manage this whole Brexit debate," said Max van Weezel, who works for Vrij Nederland magazine.
But the EU presidency comes amid political turbulence in the Netherlands.
There are cracks in the government and polls shows the populist far right in better standing.
Speaking from Amsterdam, euronews reporter Olaf Bruns said: "The Dutch presidency has an ambitious programme, but at the same time, there is trouble in the government coalition.
"Dutch journalists speculate that it could fall apart after the presidency and there could be snap elections soon."