Saving Schengen: Denmark, Sweden and Germany in emergency border talks
Comments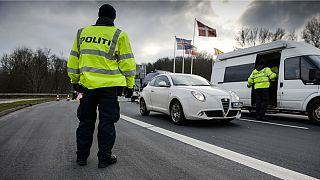 Officials from Denmark, Sweden and Germany have been at emergency talks in Brussels – amid mounting concerns over new border controls.
It comes after Sweden introduced ID checks for people travelling from Denmark – and Denmark tightened controls on its frontier with Germany.
It's dealt a double blow to the fraying passport-free Schengen area.
"We all agreed that the Schengen and free movement must be safeguarded, both for citizens and for the economy," said Dimitri Avramopoulos, EU Commissioner for Migration and Home Affairs.
Sweden took in more than 160-thousand migrants last year, many of them having travelled through Denmark.
It is the largest number for any EU country, in relation to its population and has put a huge strain on services.
That is why the government decided to impose stricter controls.
"If I just count the unaccompanied children and minors, there came 26-thousand to Sweden, and that is one thousand school classes arriving in Sweden in four months," said Morgan Johannson, Swedish Minister for Justice and Migration.
"So it tells a little bit how the situation was in Autumn, and I don't want to get back to that situation again."
Ole Schroder, German Parliamentary Secretary of State, told reporters: "Our problem at the moment in Europe is that we do not have functioning border control system especially at the Greece-Turkey border.
"We must apply the common European asylum system properly, Eurodac is not applied properly (finger-printing system), the relocation mechanism is not functioning."
In fact, only 272 refugees have been relocated from Greece and Italy so far, out of 160-thousand originally pledged.