Merkel's struggle to defend million refugee 'moral duty'
Comments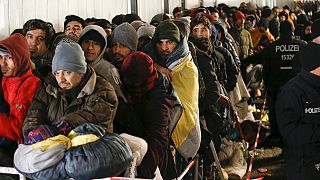 Asylum-seekers continue to arrive in Germany even though the numbers have eased. In the autumn, they reached around 8,000 per day. The authorities say that has fallen to 2,000-3,000.
Chancellor Angela Merkel is under pressure at home from Germans who are furious with the open arms policy she started in summer. So are some EU partner countries.
She defends spending billions on programmes to take in war refugees as a moral duty. Some of the migrants liken her aura of charity to Mother Teresa.
Two months ago, Merkel said: "What we are experiencing will change our country in the coming years. We want this change to be positive, and we believe we can accomplish that."
So, how is it doing so far?
Berlin has officially counted one million arrivals now, from the start of the year to the 9th of December. November set the record, with more than 206,000 arrivals. The government said the rate has been reduced partly due to worse weather, and partly due to Turkish efforts to stop trafficking.
Meanwhile, Merkel has to pacify some of the members in her governing coalition, notably the right wing Christian Social Union of Bavaria (CSU).
Interior Minister Thomas de Maizière, in Merkel's Christian Democratic Union (CDU) has also been pushing for more restrictive policies, such as imposing limits on the duration of residency Germany will grant, and revising family regroupment rules.
The new year will see ID cards issued to asylum seekers, centralising information.
The recently resurrected anti-immigrant Alternative for Germany party (AfD, Alternative für Deutschland) is gaining strength as a magnet for right-wing radicals. One prominent AfD official, MEP Marcus Pretzell, told German media last month that "armed violence" was a possible "last resort" to defend the German border if the refugee influx keeps up.
The government has vowed to get tough on economic migrants, such as repatriating those coming from the Balkans. Merkel last week said Afghans must expect the same.
Bavaria's social affairs minister Emilia Müller (CSU) has insisted that the numbers be capped, saying: "Germany can't continue to shoulder these arrivals in the long term."