EU border force could target migration problem spots
Comments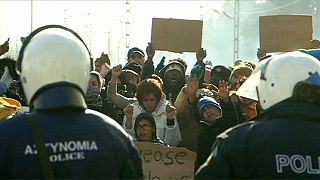 Germany and France have proposed a new EU rapid response border control force. It could, in theory at least, be deployed in member states without their authorisation if their efforts to control migratory flows are deemed to be insufficient.
Greece is likely to be the first country where the force could be deployed as Brussels grows impatient with the Greeks' efforts to control the situation. Crowds gathering on Greece's border with the former Yugoslav republic of Macedonia are being bussed to Athens to find alternative routes north; their likely destination is Germany, where the rules are being tightened and new refugee passports are being issued.
"It is clear that this procedure will take longer than the one we have right now, but it offers a variety of possibilities to use the data in other fields so that it will speed up the entire process of registering and integrating refugees," said Interior Minister Thomas de Maiziere.
German generosity is now being tempered by alarm in other member states, and in Germany itself, that better authentication, identification, and documentation is vital to reduce economic migration, and stop any terrorist infiltration.