Hungary, Poland oppose EU border force plan
Comments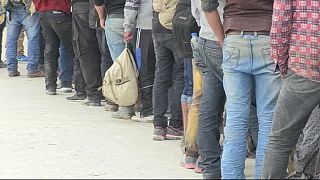 An EU plan to create a new border force that could intervene in a country without the permission of the government is already under fire.
The European Commission will officially unveil the policy on Tuesday, but copies of the white paper leaked online last week.
Poland came out against the proposal on Sunday, which is supported by France and Germany.
"This means creating an institution, which would decide arbitrarily on its actions without the (concerned) member state's participation," Foreign Minister Witold Waszczykowski was quoted by the Reuters news agency as saying in an interview.
Hungary has also added its voice to the chorus of discord; Péter Szijjártó, the country's foreign minister, told euronews in an interview on Monday that Budapest also opposed the plans.
"i don't think it would be appropriate to have a new kind of regulation which could force any member state to have any kind of measures regarding border patrolling which is against the willingness of that given country," he said.
Officials in Brussels argue that a strengthening of the EU's external borders is needed to save the Schengen zone, the bloc's passport free travel area.
The commission document obtained by euronews on Friday mentions creating a reserve force of some 1,500 people to tackle migratory pressures when transit countries are no longer able to cope.
The new agency would also be able to deport people who do not have the right to remain in Europe — a power that Frontex lacked.
It would also be permitted to intervene in non-EU countries if those countries requested assistance.
But this proposal will need the backing of EU member states before it can become a reality.
EU leaders meet in Brussels on Thursday to discuss migration and terrorism; the commission's white paper will also be on the agenda.