Italy warns EU again on migration
Comments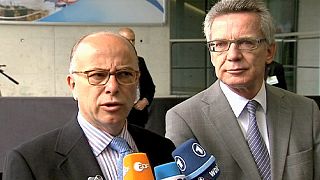 Italy has again warned it needs more help with the huge influx of migrants onto its shores, with two hundred Africans stuck at the country's border with France.
Today, EU interior ministers are discussing how to distribute asylum seekers more evenly.
"The events in Ventimiglia are a slap in the face for Europe and it proves that the immigrants don't come to Italy to stay in Italy," said
Angelino Alfano, the Italian interior minister.
Italian Prime Minister Matteo Renzi says his government has a Plan B if there is no agreement.
Renzi says the alternative could "hurt" Europe, a hint that Italy could allow them to leave the country.
"Facing such a human tragedy, one's problem is a problem for the others on the condition that alongside solidarity, there is a shared responsibility," said France's Bernard Cazeneuve.
The crisis has placed a huge strain on the resources of southern countries such as Italy and Greece.
But euronews correspondent Sandor Zsiros reports that there will be no decision on a series of migration and asylum proposals made by the European Commission.
It is likely to end up in the in-trays of EU leaders when they meet in Brussels on June 25, our correspondent adds.