Europe has gone to pot: marijuana still most popular drug in the EU
Comments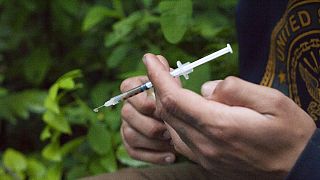 Marijuana is still the most-used drug in Europe, according to a new EU report released on Thursday.
Seventy-nine million Europeans have tried it at some point in their lives, experts at the European Monitoring Centre for Drugs and Drug Addiction found in a study of legal and illegal narcotics use across the continent.
Marijuana – or pot – which accounts for 80 per cent of drug seizures on the continent and 60 per cent of all reported drug offences.
The same study found that cocaine is the second most popular drug in Europe; it has been used by some 15.6 million people.
The experts behind the report also said that banning 'legal highs' will only force the trade underground.
Authorities find it out difficult to crack down on these psychoactive substances because many of them are so new that they are not covered by existing anti-drug legislation.
The agency said two new legal highs were being discovered each week. It said as many as 101 such substances came onto to the European market last year.
That is up from 80 in 2013 and 24 in 2009 when legal highs were first identified.