Expo exposed: corruption at Milan's global food event leaves a sour taste
Comments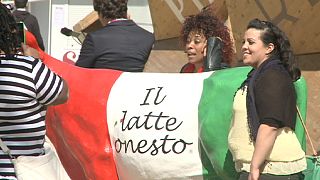 It is meant to showcase Milan as a dynamic, vibrant hub on the world stage but Expo2015 has been tarnished by corruption scandals. The six-month long event dedicated to the culinary universe and global food issues created headlines for all the wrong reasons when a number of politicians and corporate officials were placed under investigation o bribery charges.
The Mafia usually uses front men when taking part in bids. When the Mafia wants to lay its hands on a territory, it uses insidious methods by identifying and helping weak subjects and businesses in need, but then it co-opts them into the system
It is alleged multiple contracts for the construction of the site were awarded to organisations with links to the Mafia in return for favours and the career advancement of officials in the procurement process.
The affair has not only harmed the Expo but undermined Italy's efforts to distance itself from a past in which the Mafia held sway over business and politics. In this edition of Reporter Sabrina Pisu talks to top investigators and prosecuters, the Expo2015 chief and Mafia experts to find out how this corruption happened and what is being done to tackle it.
Watch the video to see her report in full.