NGOs, demonstrators rally against EU-US trade deal
Comments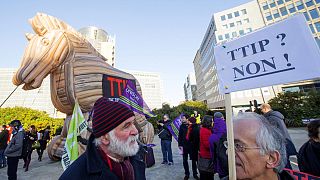 Several dozen protesters took to the streets of Brussels on Wednesday to rally against a planned EU-US free trade deal.
Negotiators say it would create a single market of 800 million people and could be worth up to 119 billion euros a year to the EU.
Lora Verheeke of the Corporate Europe Observatory said a trade deal would lead to "the standards being harmonized between the US and the EU to the lowest common denominator."
"The interests of citizens in Europe, and of the environment, and workers and consumers are not taken into account," added Paul de Clerck of Friends of the Earth.
The protest came as EU officials met with their US counterparts for more talks.
Supporters of a deal say scrapping remaining tariffs and barriers to trade will make both economies more competitive.