Ukrainian expats rally for tougher EU sanctions
Comments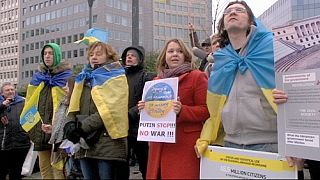 Ukrainian expats protested on Wednesday outside the EU's headquarters in Brussels as foreign ministers prepare to meet to discuss sanctions against Russia.
It comes ahead of diplomatic discussion between the 28 EU members on Thursday.
Oksana Senyczak, a Ukrainian activist, said that EU ministers should bring in more sanctions against Moscow.
"We know that they are speaking about it, we need action," she said.
But one man who backed Moscow's stance dismissed Western claims that Russia had fomented the unrest in eastern Ukraine.
Andrei Bystritsky of the Valdai International Discussion Club said he opposed "any toughening of the sanctions, even talking about it."
"I'm a supporter of an open dialogue based on true, verified, balanced and intellectually responsible information."
Even before the recent uptick in violence, foreign ministers were already considering whether to toughen up the EU's response.
Belgian Foreign Minister Didier Reynders told Euronews: "We want to see how we can reinforce the pressure on Moscow so that Moscow uses its influence in the region. It's always the same process – to go back to the Minsk agreement and try to ensure that the framework of this agreement is be used. "
The Minsk agreement is a ceasefire deal struck in September between Ukraine and the separatists.
Meanwhile, the government of new Greek prime minister Alexis Tspiras says it could veto any further sanctions.
Athens said it was not consulted on a recent 'unanimous' EU statement on Russia in breach of established protocol.