Regions or countries: Scottish vote fuels separatism debate in the EU
Comments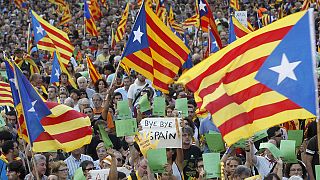 The separatism debate is looming large over Europe as Scotland prepares to vote on independence from the UK. The poll is being followed closely elsewhere in the EU, where the outcome could have repercussions for local autonomy/independence movements.
There is a campaign for a referendum in Catalonia as well, though the Spanish government says it would be illegal. If successful could such moves influence others across the EU – in Flanders, Brittany, the Basque region, Tyrol and Transylvania?
These are the issues under discussion in this edition of The Network. Presenter Chris Burns is joined by Ian Hudghton, Scottish member of the European Parliament and President of the Scottish National Party, Josep Maria Terricabras a Spanish MEP from Catalonia and President of the European Free Alliance in the European Parliament and Vivien Josep Maria Terricabras and Vivien Pertusot., head of the Brussels office of the French 'think tank' IFRI the French Institute for International Relations.
Watch the video.