Arab Spring revolution: what next?
Comments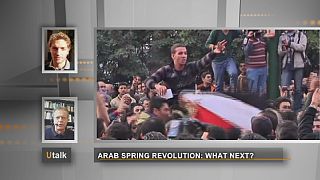 With EYP – the European Youth Parliament
Dan, from the UK, asks:
Do you think that the conflicts associated with the Arab spring will eventually result in more democratic government in those countries ?"
Pascal Boniface, Director of the French IRIS think tank responds:
I think we have to look at each national situation individually, because it's not the same in every country.
In Tunisia, we had a true revolution which resulted in a process by which an elected assembly will draw up a Constitution, and in spite of some startling developments it's fair to say that Tunisia is on the right track.
In Egypt things were different, since there was a revolution at the same time as a military coup. There is still a debate going on about the sharing of power between the army, which doesn't want to give much away, and the people, who want more."
On top of that there was the surprise of a very strong showing by the Muslim Brotherhood in the elections, and even more by the Salafists, who are a far greater threat to civil liberties. Therefore, things are much less clear in Egypt, even though the Egyptians have spoken out.
In Libya, there's a third situation, since there it's not about a revolution but a civil war, in which western countries took sides.
Therefore, the stakes involve knowing if, after the civil war, there will be a reconciliation between the different factions, or if, with the disappearance of Gaddafi, who united forces against him, there will be a resumption of clashes among the different sides in Libya.
Of course, power is less stable when it comes with the help of a foreign army, than when it comes out of a movement made up of the people themselves. Syria is yet a fourth sort of case, because for the moment repression is continuing and growing.
But at the same time the Syrian people are putting up a fight and keep on demonstrating and demanding the departure of Bashar al-Assad, in spite of very strong repression. Assad missed a chance to open up and enact reforms, which he promised to do but has not done. We could say that, sooner or later, his regime is condemned to go.
Of course, it is not known is how long that will take. Could it be weeks, or months, and also how many deaths will there have to be before Assad quits power.