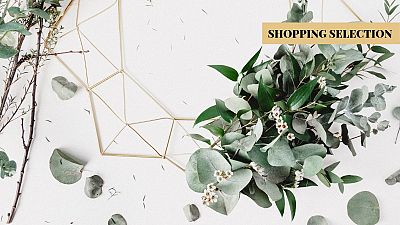 Gifts that matter and do good in the world, gifts with a particular human story behind and simply cool new brands and items that landed onto our desks… Find it all on this ultimate Living it's Christmas wellness gift list.
KORRES, Golden Krocus Ageless Saffron Elixir Serum, €89.90
In the Greek town of Kozani, Krokus flowers bloom once a year producing high quality saffron. Korres blends this spice with beta-glucans, peptides and amino acids to produce this serum that aims to fight all signs of ageing. Professional make-up artists mix this with foundation to achieve a mat finish whilst plumping the skin.
MAULI RITUALS, Reawaken Hand and Body Lotion, €38
A body lotion made with over 90% organic ingredients and pure essential oils of lime and lavender, skin-firming blood orange and grapefruit, immunity-boosting frankincense, tissue-healing sandalwood, soothing rose and jasmine, enriched with cell-rejuvenating aloe vera. What more? Mauli Rituals' products come in recyclable and re-usable packaging and the brand gives £1.00 from every purchase directly to causes that enrich the lives of children.
CONTENT BEAUTY AND WELLBEING, Zero Waste Kit Silver, €67
An easy way to kick start a zero waste lifestyle is this selection of reusable, refillable and recyclable everyday items that reduce the "single-use" habit. Great for those always on the go that want to have all the essential - cups, boxes, and utensils - necessary to make a quick bite or drink plastic-free. In the box you'll find a stainless steel straw, beeswax reusable wrap and a bamboo cutlery set among others.
TATA HARPER, Regenerating Cleanser, €79
A favourite of backstage at fashion weeks, Tata Harper is a pioneer in clean skincare. The complex formulas are completely free of toxic chemicals and rely on raw natural ingredients such as African Wild Grape, Inca Inchi, Narcissus Bulb Extract, Fermented Giant Bamboo, Edelweiss Stem Cells, Pomegranate Hydrospheres, and Grape Polyphenols. The regenerating cleanser and exfoliators is a best seller of the brand.
KIND BOX, Wellbeing Box, €113
This artisan and ethical curated gift box by Kind Box is as holistic as it gets covering physical, mental and spiritual wellbeing.The amethyst heart crystal or 'Calming' stone sits alongside organic tea, a blue clay mask with soothing bentonite and indigo and a notebook with gold edging and a ribbon page divider aimed that is perfect for journaling.
ABSOLUTION, Le set Christophe Danchaud, €78
To celebrate the holiday season, eco-luxury beauty brand Absolution - and among our favourite at Living it - put together this set of essential makeup for a chic French minimalist look including a mascara, liner and show-stopping red lipstick - their Le Rouge Théâtre N°08. The set is free of parabens, PEG's, phthalates, mineral oils, GMO's, and synthetic fragrances.
NATURISSIMO, The sleep clinic discovery box, €20
Catch up on your ZZZ's and wake up radiant with this edit of the best clean bedtime beauty treats by Naturissimo. These ten products help you relax and unwind during one of the busiest times of the year. Discover the REN pillow spray blended with floral notes of lavender and deeply restful frankincense, the multi-tasking overnight treatment by Jurlique that improve elasticity and firmness by morning and more.