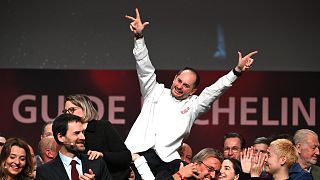 Michelin has awarded stars to the best restaurants in France this year, and there have been a few surprises. 
A new chef has claimed the top three-star honour, but the lack of women recognised by the guide has left a feeling of acid reflux.
This week, Michelin presented the 2023 France guide, celebrating the highest achievements in gastronomy. Last year, 31 French restaurants were awarded the prestigious and elusive three-star rating. It's even more elusive this year, with just 29 restaurants given the top honour.
Celebrated chefs Guy Savoy and Christopher Coutanceau have been demoted in the latest guide, while Christophe Bacquié's three-star restaurant has closed. Replacing them is a new name promoted to the three-star level: Alexandre Couillon, head chef and co-owner of 'La Marine', a gourmet restaurant located at the tip of the remote island Noirmoutier off the western coast of France.
Couillon and his wife Celine took over La Marine from his parents in 1999, turning it from a seasonal family restaurant into the high-quality dining operation it is today. The fish it serves is sourced from the port it overlooks and vegetables are grown in the restaurant's garden. 
"Every day, we tell a new story, we cook with the best products of the moment," Couillon says.
The 47-year-old Senegal-born chef has steadily progressed through the ranks of gastronomical stardom. Trained under Michelin-awarded chef Michel Guerard, Couillon got his first star in 2007. In 2013, he received his second star, before being crowned "chef of the year" by Gault et Millau in 2016. A feature in the Netflix show Chef's Table: France in 2018 elevated the reputation of La Marine even further.
"This is our star," Couillon said, pointing to his wife at the Michelin award ceremony.
In total, 630 restaurants were awarded Michelin stars in the latest edition of the guide. 
One notable addition is Belgian chef Mallory Gabsi, who was a semi-finalist in the French TV show Top Chef in 2020. Gabsi is just 26 years' old and was also given the Young Chef Award.
However, the lack of female chefs in the guide has raised concerns about industry sexism.
The Michelin Guide awards restaurants, not chefs. However with head chefs usually dictating the menu and style of the restaurant, the star system is regularly used in relation to individual chefs.
Of the 44 restaurants receiving their first stars or improving their rating, just one has a female head chef. Benin-born Georgiana Viou is the head chef of Rouge in Nîmes.
Other women were rewarded with their companions, like Camille Pailleau and her partner Diego Delbecq at the restaurant Rozo, and Jeanne Satori with David Degoursy, both 25, who got their first star and a green star with De:ja.
Out of the 29 three-star restaurants, just one has a female head chef, Anne-Sophie Pic, the 53-year-old owner of Maison Pic.