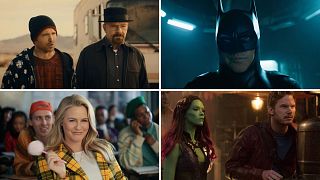 On Sunday, the Kansas City Chiefs overcame a 10-point deficit at half-time, in a dramatic 38-35 win over the Philadelphia Eagles, to claim their second Super Bowl in four years.
But honestly, who cares about the game when we all know the real star of the show was the ads! 
Yes, the Super Bowl is like the Cannes Film Festival of commercials, where brands compete to create the most creative and memorable spots. 
And this year's edition was no different, featuring a 'Breaking Bad' reunion and Ben Affleck's Batman making a comeback. 
Here are the 10 of the most memorable ads from this year's Super Bowl extravaganza: 
1. Walter and Jessie cook up snacks
Bryan Cranston and Aaron Paul, who starred as Walter White and Jesse Pinkman in the highly-acclaimed hit show Breaking Bad, reunited in an RV for a nostalgic trip down memory lane.  
However, this time they're whipping up PopCorners snacks instead of crystal meth.
Raymond Cruz also reprises his role as the sociopathic drug kingpin Tuco Salamanca, who appears in the ad to taste and test the PopCorners snack. 
2. Ben Affleck + Dunkin' (A modern day love story)
In its first Super Bowl ad, Dunkin' enlisted superfan Ben Affleck and wife Jennifer Lopez.
In the ad, Affleck mans the drive-through booth at a Dunkin' Donuts in Medford, Massachusetts, with a Boston accent and shocks customers. 
Lopez comes through the line of cars and asks him what he's doing. 
"You're embarrassing me in front of my friends," he says. "Grab me a glazed," she demands. 
Affleck's love for Dunkin' is well-documented and has become a popular meme in recent months. He's often spotted carrying Dunkin' Donuts drinks in paparazzi photos. 
3. Indiana Jones returns
Fans were given a closer look at Harrison Ford's creepily de-aged face, for his return in the fifth instalment of the Indiana Jones series, 'Indiana Jones and the Dial of Destiny'.
It surely can't be much worse than 'Kingdom of the Crystal Skull'... right? 
Alongside Ford, the movie will feature Phoebe Waller-Bridge, known for her roles in 'Fleabag' and 'Solo: A Star Wars Story', as Indy's goddaughter Helena, and Mads Mikkelsen as an evil ex-Nazi scientist villain. 
The film hits theatres on 30 June 2023. 
4. Ezra Miller, Michael Keaton and Ben Affleck star in The Flash
The Super Bowl debuted the first trailer for 'The Flash', offering a sneak peek into the highly anticipated multiversal journey through the DC universe. 
The controversial Ezra Miller, who narrowly avoided jail-time last month after accepting a plea deal to trespassing in a Vermont home, leads the cast as the titular Scarlet Speedster, with two iconic Batmen returning to their roles, Michael Keaton and Ben Affleck. 
The movie also introduces Sasha Calle as Supergirl, while Kiersey Clemons reprises her role as Iris West after being left on the cutting room floor for 2017's Justice League, and Ron Livingston stars as Henry Allen. 
5. Not-So Clueless
Rakuten featured a Clueless-themed commercial with Alicia Silverstone reprising her role as Cher Horowitz at this year's Super Bowl. 
Taking place in a high school classroom, reminiscent of the iconic debate scene from the 1995 romantic comedy, and with Silverstone dressed in her trademark black-and-yellow plaid skirt and jacket combo, this one served as a major bout of nostalgia. 
6. Transformers: Rise of the Beasts
In the first live-action Transformers movie to be released without Michael Bay at the helm, a new 30 second teaser trailer for the series' upcoming 'Rise of the Beasts' instalment was aired at the "Big Game". 
With an all-star cast including Anthony Ramos, Dominique Fishback plus voice acting by Michelle Yeoh, Pete Davidson, Peter Dinklage, Liza Koshy and more, 'Rise of the Beast' introduces audiences to a new breed of Transformers called "The Maximals."
The movie is set to release in cinemas on 9 June. 
7. Jennifer Coolidge fulfils her dolphin dreams
The icon that is Jennifer Coolidge, known for her role in HBO's hit show 'The White Lotus', has accomplished her ultimate dream role of playing a dolphin, thanks to E.l.f. Cosmetics' Super Bowl commercial. 
The actress had revealed in a previous interview that she had always wanted to play a dolphin, which sparked confusion with her fans and reporters alike. 
However, in the commercial (written by White Lotus creator Mike White), Coolidge tries out the Power Grip Primer from the cosmetics company and exclaims that she looks like a baby dolphin. 
She then emulates the sound of one. You have to see it to believe it!
8. Scream VI
Fans of the iconic horror franchise 'Scream' were treated to a look at the highly-anticipated release of 'Scream VI'. 
And Ghostface looks more terrifying than ever. 
The trailer, which runs for a minute, is filled with action, most notably a ladder escape sequence featuring Melissa Barrera's character, Sam.
Matt Bettinelli-Olpin and Tyler Gillett return to direct and have brought with them 2022 Scream writers James Vanderbilt and Guy Busick. 
The only one not returning is Neve Campbell, who opted not to reprise the role of legacy character Sidney due to salary disputes. 
'Scream VI' is out on 10 March.
9. Will Ferrel in Squid Game?
In a joint advert for GMC cars and Netflix, Will Ferrell was seen parodying several mega hit Netflix shows, including 'Bridgerton', 'Stranger Things', 'Queer Eye' and 'Squid Game'. 
In the ad, Ferrell is bitten by a zombie from 'Army of the Dead', takes Queer Eye's Antoni Porowski and Jonathan Van Ness on a drive, and takes part in a game of 'Red Light, Green Light' from Squid Game.
10. Guardians of the Galaxy III
A new trailer for Disney's 'Guardians of the Galaxy III', the final instalment in the franchise, also aired during Sunday's big game, which revealed the gang's reunion with Gamora, played by Zoe Saldaña.
The advert shows Chris Pratt's character, Peter Quill, or Star-Lord, trying to jog the memory of his ex-girlfriend Gamora, who was killed in a previous movie but brought back from another time without any recollection of their past. 
The gang goes on a final mission to take down the villain High Evolutionary, played by Chukwudi Iwuji. The James Gunn movie also features returning cast members as well as some new faces, including Will Poulter, Maria Bakalova, and Iwuji. 
'Guardians of the Galaxy III' is set for release on 5 May.