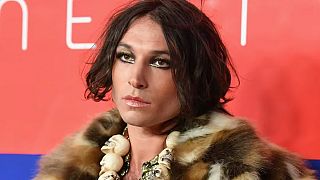 -
Copyright

Angela Weiss/Getty Images
Controversial Fantastic Beasts and The Flash star Ezra Miller has pleaded guilty to unlawful trespassing in Vermont in a case stemming from an incident in May 2022.
The 30-year-old non-binary actor was alleged to have broken into a home in Stamford, Vermont, where several alcohol bottles were found to be missing. The actor was initially charged with trespassing, burglary and petit larceny, with the latter two charges now dropped. Had those charges not been dropped, Miller could have faced a sentence of 25 years in prison.
Miller had previously pled not guilty to the charges including felony burglary back in October of 2022.
As part of their plea deal to avoid jail time, Miller must pay a $500 fine and face one year of probation. They have also agreed to a total of 41 conditions, which include no drinking, random drug tests and a commitment to continue seeking mental health treatment.
In a statement provided to Variety, Miller's attorney said: "Ezra Miller pled guilty this morning to a misdemeanor unlawful trespass in Vermont Superior Court and accepted the conditions imposed by the court. Ezra would like to thank the court and the community for their trust and patience throughout this process, and would once again like to acknowledge the love and support they have received from their family and friends, who continue to be a vital presence in their ongoing mental health."
The Vermont incident is just one of many controversies and legal issues that Miller has faced. 
Last year, Hawaiian police arrested Miller on 28 March 2022 after they were involved in a fight in a Karaoke bar. Miller was then arrested on second-degree assault charges for throwing a chair at a 26-year-old woman, and a series of restraining orders followed.
Following this series of run-ins with police around the country, Miller announced in August of 2022 that they were seeking treatment for "complex mental health issues." 
Here was Miller's statement at that time:
Having recently gone through a time of intense crisis, I now understand that I am suffering complex mental health issues and have begun ongoing treatment. I want to apologize to everyone that I have alarmed and upset with my past behavior. I am committed to doing the necessary work to get back to a healthy, safe and productive stage in my life.
The actor is still set to star in Warner Bros.' The Flash which comes out on 16 June 2023.