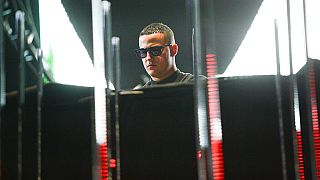 -
Copyright

Scott Roth/Invision/AP
Since the 1990s, Super Bowl has been watched by millions around the world - but a sizeable chunk of the audience only watch for the musical performances rather than the annual American football final itself.
There has been great excitement online over the eagerly anticipated headline appearance of Rihanna at the National Football League (NFL)'s most iconic event this Sunday as the Barbados-born superstar has not performed live since the 2018 Grammys, but another musician will also adding a little European flavour to proceedings.
DJ Snake, from Paris, will get sports fans excited for the coming action as he takes his place behind the desks before the players kick off, giving the French star is likely to see his already stellar career go stratospheric
Who is DJ Snake?
You probably won't be surprised to read that his reptilian name was not given to him at birth! His real name is William Grigahcine, he's 36 and was born to a French father and an Albanian mother.
In a 2015 interview with Forbes, he explained how he grew up in the banlieue of Paris and was inspired by cult French film 'La Haine' to become a DJ. He's described his old neighbourhood as a 'ghetto' where he grew up graffitiing; that endeavour earned him the nickname 'Snake' as he was apparently the only one among his friends who was slippery enough to evade the police.
He had an early taste of international success when he collaborated with Lady Gaga on her 2012 album 'Born This Way', earning him a Grammy nomination as a producer. It was a 2015 partnership with American rapper Lil Jon on the hit record 'Turn Down For What', though, which really catapulted him to fame and gave him his status as one as the world's most famous DJs. The song was enormously popular, especially in the United States where it achieved six platinum certifications.
Pardon My French
DJ Snake also had another huge hit with 2015's 'Lean On', a collaboration with Major Lazer and MØ. In 2016, his fame grew further still when Forbes named him as one of their '30 under 30 in music'.
Since then, he's released two albums under his own name, is part of the French DJ collective 'Pardon My French' and even has his own record label 'Premier Classe', which he established in 2018.
While the hugely popular Super Bowl may be a daunting prospect for any seasoned musician, DJ Snake is no stranger to entertaining sports fans. In 2022, he played to 48,000 football fans at the iconic Parc de Princes stadium, home to Paris Saint Germain.
Relatively few Europeans have ever been invited to play at the Super Bowl, now in its 57th year. The Rolling Stones, Paul McCartney and Coldplay are among the lucky few - and DJ Snake's appearance will cement his star status.
2023's event is to be held in Glendale, Arizona and will see the Kansas City Chiefs go head to head with rivals the Philadelphia Eagles. If you want to catch the game - and DJ Snake's performance - you'll have to stay up late though. The event is scheduled to start at 0030 Central European Time (CET) on Monday (13 February) morning!