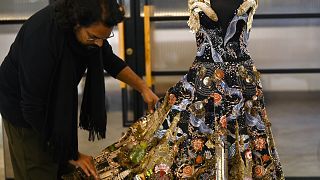 -
Copyright

MONEY SHARMA / AFP
For a man with seemingly infinite creative ambitions, it is fitting that Indian designer Rahul Mishra's latest Paris haute couture collection attempts to encapsulate the entire universe.
His Fashion Week debut "Cosmos" is the latest showcase for one of Asia's leading stylists, whose works have been modelled by Michelle Yeoh, Viola Davis and other major film stars.
His long and laborious journey reflects a desire to evoke the boundless mysteries of life, told through his trademark embroidered flourishes of animal contours and luminous details.
"This is actually the true cosmos in its ultimate manifestation," Mishra said while unveiling one of the more than two dozen gowns he sent to the French capital.
"It justifies the name of the collection".
The gown's flowing pleated silhouette is alive with intricately embroidered depictions of the animal kingdom, where schools of fish rub shoulders with the night sky's constellations. Mishra spent months engrossed in every microscopic detail of the piece. 
The collection's more extravagant pieces reflect Mishra's preoccupation with the natural world and include a sequined gown with translucent veils, modelled on the pulsing movements of a jellyfish.
Other eye-catching works feature elegant embroidery of pink-tinged leaves, golden ladybird brooches, or frilly bustiers with blue sequins and marine life motifs to elicit the ocean's depths.
For more watch Euronews' report in the video above.