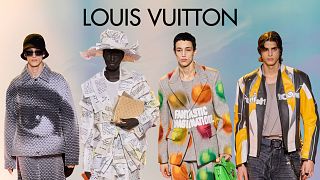 -
Copyright

Canva/AP Photo
The recent Louis Vuitton menswear show in Paris was a stunning dreamlike spectacle. 
The fashion house owned by LVMH switched up the traditional fashion runway format with an electric performance from groundbreaking Spanish singer Rosalía, who stunned guests at Louis Vuitton's showcase of its menswear Fall-Winter 2023-24 collection, as part of the ongoing Paris Fashion Week. 
Rosalía made a grand entrance on top of a vintage 1980s yellow saloon car, looking like a total boss in shades and a hooded jacket. 
The event was attended by a number of major A-list celebs, from R&B singer Usher and David and Victoria Beckham, to BTS megastar J-Hope. 
The show was designed by KidSuper, the youthful collective who took control of LV's creative helm after the death of Virgil Abloh in 2021. 
It channeled the theme of growing up "as members of the first generation raised on super-connectivity." And it showed in the creative and tailoring-heavy display, which was filled with references to the digital age.
Patterns evoked encrypted computer coding, while handwritten school notes (which are deemed obsolete in today's world) were upcycled to produce a surreal white suit and top hat look whose facade was constructed entirely of the note paper.
The best looks were minimalist, such as a light gray suit jacket that sported one large childlike button and a fabulous tapered V-shape owing to masterful construction with interlocking layers of fabric.
French filmmakers Michel Gondry and Olivier Gondry created the set design, a "house of ages" with rooms reflecting a boy's first stages of life inside the Louvre's oldest courtyard, continuing Abloh's coming-of-age styles that defined his Vuitton tenure from 2018-2021.
Take a look at some of the best looks from the collection below: 
Check out the video above for more footage of the collection, as well as interviews.