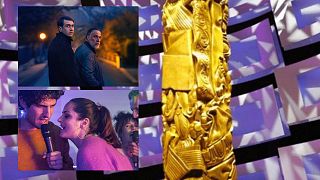 -
Copyright

Canal+ - Les Films des Tournelles - Haut et Court
The César Academy has unveiled the films selected for its 48th awards ceremony, which will be held in a month's time.
Louis Garrel's L'Innocent (The Innocent) and Dominik Moll's procedural thriller La Nuit du 12 (The Night of the 12th), which recently won the 19th Prix Jacques Deray for Best French police thriller, lead the race at the César Awards, France's equivalent to the Oscars.
Nominated for 11 Césars, L'Innocent stars Louis Garrel, Roschdy Zem and Portrait of a Lady on Fire and Tár 's Noemie Merlant, and had its world premiere out of competition at Cannes.
Close behind is La Nuit du 12, nominated for 10 Césars, which also opened as part of Cannes' Premiere section. It stars Bastien Bouillon and Bouli Lanners as two cops trying to solve a femicide.
Other contenders include Albert Serra's Pacifiction, Valeria Bruni Tedeschi's Les Amandiers (Forever Young), Cedric Jimenez's Novembre (November) and Alice Diop's Saint Omer.The latter, for which Alice Diop earned the Lion of the Future and the Golden Lion at Venice, is nominated for four awards, including Best First Film.
The César for Best Foreign Film includes Lukas Dhont's Close, Jerzy Skolimowski's EO and Ruben Östlund's Triangle of Sadness, all of which were nominated yesterday for Best International Feature at the Oscars. Rodrigo Sorogoyen's As Bestas and Tarik Saleh's fantastic Boy from Heaven round off the category.
Following the Oscars' example, no women have been nominated in the Best Director category, and there is only one film directed by a female filmmaker in the running for Best Film - Valeria Bruni Tedeschi's Les Amandiers. Claire Denis, whose Berlin Silver Bear-winning film Avec amour et acharnement (Both Sides of the Blade) and Cannes Grand Prize-winning Stars at Noon, didn't receive a single nomination and stands as this year's biggest snub.
The 48th edition of the César Awards will take place on 24 February. An honorary award will be bestowed to David Fincher, the American director of Zodiac, Fight Club and Se7en.
Here's the full list of nominations for the 2023 Cesar Awards:
Best Film
Les Amandiers (Valeria Bruni Tedeschi)
En corps (Cédric Klapisch)
L'Innocent (Louis Garrel)
La Nuit du 12 (Dominik Moll)
Pacifiction (Albert Serra)
Best Director
Cédric Klapisch (En corps)
Louis Garrel (L'Innocent)
Cédric Jimenez (Novembre)
Dominik Moll (La Nuit du 12)
Albert Serra (Pacifiction)
Best Actress
Fanny Ardant (Les Jeunes Amants)
Juliette Binoche (Ouistreham)
Laure Calamy (À plein temps)
Virginie Efira (Revoir Paris)
Adèle Exarchopoulos (Rien à foutre)
Best Actor
Jean Dujardin (Novembre)
Louis Garrel (L'Innocent)
Vincent Macaigne (Chronique d'une liaison passagère)
Benoît Magimel (Pacifiction)
Denis Ménochet (Peter Von Kant)
Best Supporting Actress
Judith Chemla (Le Sixième enfant)
Anaïs Demoustier (Novembre)
Anouk Grinberg (L'Innocent)
Lyna Khoudri (Novembre)
Noémie Merlant (L'Innocent)
Best Supporting Actor
François Civil (En corps)
Bouli Lanners (La Nuit du 12)
Micha Lescot (Les Amandiers)
Pio Marmaï (En corps)
Roschdy Zem (L'Innocent)
Best Female Newcomer
Marion Barbeau (En corps)
Guslagie Malanda (Saint Omer)
Rebecca Marder (Une Jeune fille qui va bien)
Nadia Tereszkiewicz (Les Amandiers)
Mallory Wanecque (Les Pires)
Best Male Newcomer
Bastien Bouillon (La Nuit du 12)
Stephan Crepon (Peter Von Kant)
Dimitri Doré (Bruno Reidal, confession d'un meurtrier)
Paul Kircher (Le Lycéen)
Aliocha Reinert (Petite Nature)
Best Foreign Film
As Bestas (Rodrigo Sorogoyen)
Close (Lukas Dhont)
Boy From Heaven (Tarik Saleh)
EO (Jerzy Skolimowski)
Triangle of Sadness (Ruben Östlund)
Best First Film
Bruno Reidal, confession d'un meurtrier (Vincent Le Port)
Flacon Lake (Charlotte Le Bon)
Les Pires (Lise Akoka and Romane Gueret)
Saint Omer (Alice Diop)
Le sixième enfant (Léopold Legrand)
Best Animated Film
Ernest et Célestine: le voyage en Charabie (Jean-Christophe Roger and Julien Chheng)
Ma famille afghane (Michaela Pavlatova)
Le Petit Nicolas - Qu'est-ce qu'on attend pour être heureux? (Amandine Fredon and Banjamin Massoubre)
Best Documentary
Allons Enfants (Thierry Demaizière and Alban Teurlai)
Les années Super 8 (Annie Ernaux and David Ernaux-Brio)
Le Chêne (Laurent Charbonnier)
Jane par Charlotte (Charlotte Gainsbourg)
Retour à Reimes [Fragments] (Jean-Gabriel Périot)
Best Original Screenplay
Éric Gravel (À plein temps)
Valéria Bruni Tedeschi, Noémie Lvovsky, Agnès de Sacy (Les Amandiers)
Cédric Klapish, Santiago Amigorena (En corps)
Louis Garrel, Tanguy Viel, Naïla Guiguet (L'Innocent)
Alice Diop, Amrita David, Marie Ndiaye (Saint Omer)
Best Adapted Screenplay
Michel Hazanavicius (Coupez!)
Thierry de Peretti, Jeanne Aptekman (Enquête sur un scandale d'Etat)
Dominik Moll, Gilles Marchand (La Nuit du 12)
Best Cinematography
Julien Poupard (Les Amandiers)
Alexis Kavyrchine (En Corps)
Patrick Ghiringhelli (La Nuit du 12)
Artur Tort (Pacifiction)
Claire Mathon (Saint Omer)
Best Editing
Mathilde Van de Moortel (À plein temps)
Anne-Sophie Bion (En Corps)
Pierre Deschamps (L'Innocent)
Laure Gardette (Novembre)
Laurent Rouan (La Nuit du 12)
Best Original Score
Irène Drésel (À plein temps)
Alexandre Desplat (Coupez!)
Grégoire Hetzel (L'Innocent)
Olivier Marguerit (La Nuit du 12)
Marc Verdaguer, Joe Robinson (Pacifiction)
Anton Sanko (Les passagers de la nuit)
Best Sound
Cyril Moisson, Nicolas Moreau, Cyril Holtz (En Corps)
Laurent Benaïm, Alexis Meynet, Olivier Guillaume (L'Innocent)
Cédric Deloche, Alexis Place Gwennolé Le Borgne, Marc Doisne (Novembre)
François Maurel, Olivier Mortier, Luc Thomas (La Nuit du 12)
Jordi Ribas, Benjamin Laurent, Bruno Tarrière (Pacifiction)
Best Costume Design
Caroline de Vivaise (Les Amandiers)
Pierre-Jean Larroque (Couleurs de l'incendie)
Emmanuelle Youchnovski (En attendant Bojangles)
Corinne Bruand (L'Innocent)
Praxedes de Vilallonga (Pacifiction)
Gigi Lepage (Simone - le voyage du siècle)
Best Set Design
Emmanuelle Duplay (Les Amandiers)
Sébastien Birchler (Couleurs de l'incendie)
Michel Barthélémy (La Nuit du 12)
Sébastien Vogler (Pacifiction)
Christian Marti (Simone - le voyage du siècle)
Best Visual Effects
Guillaume Marien (Les cinq diables)
Sébastien Rame (Fumer fait tousser)
Laurens Ehrmann (Notre-Dame brûle)
Mikaël Tanguy (Novembre)
Marco del Bianco (Pacifiction)