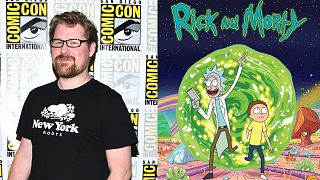 Copyright

Getty / Adult Swim
-
Justin Roiland, co-creator of hit Adult Swim TV programme Rick and Morty, is facing domestic violence charges in California, stemming from an incident with a girlfriend in 2020.
The voice of the cartoon comedy's titular characters has been charged with "one felony count of domestic battery with corporal injury and one felony count of false imprisonment by menace, violence, fraud and / or deceit."
Based on California sentencing guidelines, if Roiland is found guilty, he could face up to seven years in prison.
Details of the two-year-old case were first made public on Thursday.
The incident allegedly occurred on 19 January 2020, according to documents obtained by NBC News. The accuser is an anonymous "Jane Doe" who police say "was in a dating relationship" with Roiland at the time.
A police complaint says that Roiland's actions resulted "in a traumatic condition" for the woman.
Roiland was arrested and released on a $50,000 (approx. €46,100) bond in August 2020 and pleaded not guilty to the charges in October 2020.
On Thursday, he appeared in court for a pre-trial hearing. His lawyer told the judge that a plea deal was available to his client, but did not provide any further details.
"To be clear, not only is Justin innocent but we also have every expectation that this matter is on course to be dismissed once the District Attorney's office has completed its methodical review of the evidence," Roiland's attorney T. Edward Welbourn told Deadline. "We look forward to clearing Justin's name and helping him move forward as swiftly as possible."
Another hearing is scheduled for 27 April, at which Roiland will be required to attend.
Roiland is best known for co-creating the Rick and Morty series with Dan Harmon, a show which has spawned a billion-dollar media and merchandising franchise. It is one of the most popular adult television comedies and has finished its sixth season last December. A release date for the planned seventh season has not yet be announced, and it is unclear how the trial may affect the show.
Adult Swim, whose parent company Warner Bros. Discovery, declined to comment.