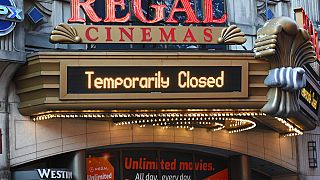 Copyright

Evan Agostini/2021 Invision/AP
-
The British-based cinema group Cineworld has filled for Chapter 11 bankruptcy protection in the United States as it continues to fight a dramatic drop in earnings and empty theatres.
Last month, the firm which is the world's second largest cinema chain, reported its stock had crashed by more than 60 percent.  
"The pandemic was an incredibly difficult time for our business, with the enforced closure of cinemas and huge disruption to film schedules that has led us to this point," CEO Mooky Greidinger said in a statement.
Cineworld has racked up roughly €4.8 billion in debt which it is struggling to finance after a slow-start recovery from COVID-19 lockdowns.
But the firm, which operates in eight European countries, will continue operating as usual while it restructures and reorganises its massive debts and expects to exit Chapter 11 in the first quarter of 2023. The group also says none of its 28,000 employees jobs are at risk.
The company and its subsidiaries have commitments for an approximate €1.94 billion debtor-in-possession financing facility from existing lenders. 
According to box office insights group Comscore 2019 saw record profits for the industry of around €42 billion, but the sector has struggled to recover.
Cinemas the world over were forced to close their doors during the pandemic and have had a rocky road back to profitability thanks to a combination of a backed-up production pipeline in Hollywood and the growth of straight to streaming releases.
In 2022 roughly one third fewer wide-release movies went out to theatres compared with the years before the pandemic, meanwhile one of the summer's most-watched movies, the Ryan Gosling-Chris Evans action thriller 'The Gray Man,' played on Netflix.
How big is Cineworld in Europe?
Cineworld operates in 10 countries across the world including the UK, Ireland, and the US.
Outside of the English speaking world, the chain has a large presence in eastern-Europe with 18 premises in Hungary, 13 in the Czech Republic, three in Slovakia, seven in Bulgaria, 28 in Romania and 34 in Poland.
The Cineworld Group is listed on the London Stock Exchange and after acquiring Picturehouses Cinemas in 2012 has 127 cinemas across the UK.
Last year the company tapped the stock market to raise cash, taking advantage of a huge run-up in its share price when it got caught up in the frenzy surrounding so-called meme stocks.
Its shares rose sixfold in January 2021 and then more than doubled that May and again in June.
The gains were driven by hordes of amateur investors, with some referring to themselves as 'apes' willing to hold the stock regardless of whether professional Wall Street called it a bad buy.