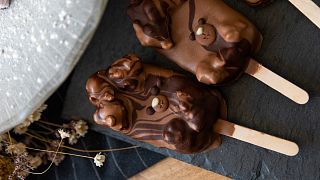 -
Copyright

Patrice Cayuela
If you have ever been to Japan, you will have no doubt heard of the word "kawaï", which loosely translates as "cute". 
It can be used to refer to people, animals, to creations in Japanese pop culture, and even… to cakes.
Young French pastry chef Patrice Cayuela has always been a fan of Japanese pop culture and has just published a cookbook dedicated to "Kawaï" cuisine.
Patrice trained in and around Lyon - often dubbed France's gastronomic capital - including at Bernachon, one of the city's most famous chocolate-makers.
Patrice is now poised to open his own pastry shop in the trendy "Pentes" district where "Kawaï" pastry will feature prominently.
Ahead of the opening, Patrice shares with The Kitchen his recipe for his "Alpagas", a scrumptious and of course "cute" chocolate brownie on a stick: ideal for children's parties or for grown-ups who haven't lost their sense of fun! 
Serves: 6
Cooking time: 4.5 hours (including 3h for freezing)
Ingredients
100g of butter
120g of dark chocolate
2 Eggs
50g of sugar
40g of flour
40g of pistachios
Different chocolates for the marble and popcorn for the decoration
Method
Preheat oven to 160°C.
Melt the chocolate and butter in the microwave or in a water bath. In the bowl of a food processor, whip the eggs and sugar for about 10 minutes.
Once the butter and chocolate mixture has melted, pour it over the egg and sugar mixture in three batches at medium speed. Add the flour and pistachios with a spatula, then pour the dough into a cake mold and bake for 25 minutes at 160°C.
Once the brownie has cooled, cut into rectangles to the size of the magnum cake mold (if not, a rectangular mold will do), insert a wooden stick and place in the freezer for 3 hours.
As soon as the magnum cakes are completely frozen, remove them from the molds and stick the popcorns on the top part (for the mane) and the bottom part (for the goatee) with melted chocolate. Put them back in the freezer.
Melt both chocolates separately.
Take out the magnum cakes and dip them one by one in the milk chocolate and with a spoon, dab it all with the dark chocolate. Place them on a baking paper until the chocolate sets.
To finish, create the faces with chocolate and a cone (or piping bag), candy, etc., as you want!