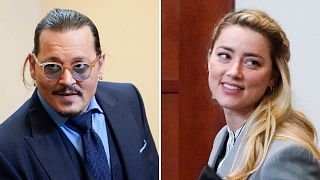 -
Copyright

Steve Helber / POOL / AFP
Jurors in Virginia on Wednesday ruled in favour of Hollywood actor Johnny Depp, in the libel case brought by the actor against his ex-wife Amber Heard.
The seven-person civil jury had to come to a unanimous decision to reach each verdict. They deliberated for about 12 hours over three days.
Depp had filed a $50 million (€47 million) lawsuit against Heard, arguing that she defamed him in an op-ed for the Washington Post. Jury members found Depp should be awarded more than $10 million (€9.3 million) in damages.
However, the jury also found in favour Heard in some aspects of her $100 million (€93.8 million) counterclaim which said she was defamed by Depp's lawyer when he called her abuse allegations a hoax. The jury ruled that Heard should receive $2 million (€1.8 million). 
In the article, written in 2018, Heard described herself as a "public figure representing domestic abuse", but did not include Depp's name.
The jury had to decide if two particular passages of the article and the headline were defamatory. Because Depp is a public figure, Heard could only be found guilty if it was decided that she knew what she wrote was false. 
Heard's lawyers had told the jury that the case should fail if Heard suffered even one incident of abuse.
Depp, who has starred in blockbuster movies including the "Pirates of the Caribbean" films and the "Fantastic Beasts" franchise, said he never struck Heard or any woman, and that Heard's allegations cost him "everything."
Heard's attorneys have argued that she told the truth and that her opinion was protected as free speech under the US Constitution's First Amendment.
The jury "gave me my life back"
In a statement on Wednesday, Depp expressed his gratitude for the "outpouring of love" and support he had received, and said that the jury "gave me my life back".
The actor said that the allegations made against him had triggered "an endless barrage of hateful content" which had a "seismic" impact on his life and career.
His statement continued: "I hope that my quest to have the truth be told will have helped others, men or women, who have found themselves in my situation, and that those supporting them never give up."
"The best is yet to come and a new chapter has finally begun," he added.
Amber Heard said that the disappointment she felt after the verdict was "beyond words".
"I'm heartbroken that the mountain of evidence still was not enough to stand up to the disproportionate power, influence and sway of my ex-husband," she wrote in a statement.
"I'm even more disappointed with what this verdict means for other women," she added.
"It is a setback. It sets back the clock to a time when a woman who spoke up and spoke out could be publicly shamed and humiliated. It sets back the idea that violence against women is to be taken seriously."
How can both sides be liable for defamation?
The jury found in Depp's favour on all three of his claims relating to specific statements in the 2018 article written by Heard.
In evaluating Heard's counterclaims, jurors considered three statements by one of Depp's lawyers who called her allegations a hoax. They found she was defamed by one of them, in which the lawyer claimed that she and friends had "spilled a little wine and roughed the place up, got their stories straight," and called the police.
"The verdict was that both of them were liable for defamation," a family law attorney in New York, Brent Ward, told AP as he commented on the verdict.
The jury found Depp should receive $10 million in compensatory damages and $5 million in punitive damages, but the judge said state law caps punitive damages at $350,000, meaning Depp was awarded $10.35 million.
"And for her defamation claims, which really relate to Johnny Depp's lawyer and actions he took on Johnny's behalf, she [Amber Heard] was awarded $2 million," Ward added.
Depp's lawyers told reporters that the verdict confirms that the claims against the actor were "defamatory and unsupported by any evidence".
The six-week trial, followed by millions of people around the world, featured accusations of domestic abuse on both sides.
Allegations of abuse
Both parties testified at length during the trial, going into details about their troubled marriage.
In his testimony, Depp claimed that allegations made by Heard and her team of his substance abuse were embellished.
The actor accused Heard of abuse instead, claiming that Heard injured his finger after throwing a vodka bottle at him.
He also testified about his difficult childhood and abusive relationship with his mother.
During her time on the stand, Heard denied injuring Depp's finger that night with the vodka bottle, claiming that while she did smash a bottle, she was not aware of his injuries until later on. She said Depp sexually assaulted her that night with a liquor bottle.
Heard's testimony also included allegations of Depp's behaviour on drugs and alcohol, as well as allegations of sexual assault and physical abuse.
Depp had previously also filed a libel suit in the United Kingdom against British tabloid The Sun over an article that called him a "wife-beater", but lost that case in November 2020.