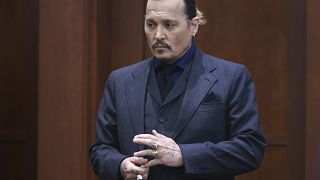 Copyright

Jim Lo Scalzo/AP
-
Actor Johnny Depp took to the stand this week to testify in the ongoing libel case against his ex-wife Amber Heard.
Giving evidence Depp told the court he has suffered for six-years due to Heard's actions and his career has deteriorated as a direct consequence.
"My goal is the truth because it killed me that all these people I had met over the years ... that these people would think that I was a fraud," the 'Pirates of the Caribbean' star added.
In long, meandering answers the actor flatly denied hitting Heard and attributed vulgar text-messages he sent to her (and on which some of her allegations hinge) to a verbal style he picked up from the late writer Hunter S. Thompson.
Depp also claimed that Heard, who he married in 2015, went from a loving and caring wife to someone who constantly berated and attacked him, leading him to on occasion hide from her in a locked bathroom.
What is the libel case about?
The case rests on an op-ed for the Washington Post written in 2018 in which Amber Heard described herself as a "public figure representing domestic abuse."
Depp was not explicitly mentioned but claims the piece implicates him because it refers to past accusations Heard made when she sought a restraining order against him.
Early on it was established that the trial was likely to be extremely acrimonious with Heard's lawyer saying it would become a "mudslinging soap opera".
Heard's account will be heard later in the six-week trial, with only the prosecution putting their case so far but the defence claims that Depp is unable to account for his actions in the relationship due to alcohol and drug use, as well as asserting that Heard was entitled to describe herself the way she did due to her First Amendment right to free speech.
The court has heard that Depp suffered abuse as a child, as well as supportive statements from his friends.
Heard's former assistant also gave evidence, testifying that she had never seen any abuse by Depp but that the model had screamed at her on multiple occasions and spit in her face when she asked for a pay rise.
A couples therapist, Laurel Anderson, who saw the couple in 2015 claimed they engaged in "mutual abuse," however any evidence of abuse was denied by a separate couples therapist, David Kippel, who also saw the pair.
But how did the once happy couple end up here? Let's take a look at Depp and Heard's chequered past.
2009, Depp and Heard meet on the set of the 'The Rum Diary'
Depp and Heard met on the set of this movie where they co-starred in the adaptation of the book of the same name by Hunter S. Thompson.
The film, in which the pair played love interests on the island of Puerto Rico, was a a box office flop.
2012, Heard and Depp begin dating
The co-stars turned real life love interests after the break up of Depp's relationship with his partner of 14-years, the French model Vanessa Paradis, with whom he has two children.
It was stated in a court filing by Heard that their relationship began around the turn of 2011 - 2012.
2013, Heard alleges she was assaulted for the first time
In 2013 the couple got into an argument in which Heard alleges Depp hit her for the first time. According to Heard the incident occurred after she made fun of Depp's tattoo which reads "Wino Forever". The tattoo is an altered version of "Winona Forever," a memento of Depp's relationship with actress Winona Ryder.
Depp denied the incident took place, saying,
"It didn't happen.
"Why would I take such great offence to someone making fun of a tattoo on my body? That allegation never made any sense to me."
2014, The two get engaged
Amber Heard was spotted out and about wearing an engagement ring leading to questions about the pair's relationship.
Depp later appeared to confirm the relationship in an interview with the Daily Mail where he discussed wedding planning and described himself as wearing a "chick's ring," adding: "It's probably a dead giveaway, isn't it? Not very subtle."
2014, Heard alleges an assault took place on a private plane
Heard claims that Depp assaulted her in 2014 on a private plane flying from Boston to Los Angeles. Heard says Depp was 'blackout' intoxicated.
Depp denied the incident and said he had taken two tablets and drunk a glass of champagne before the flight.
2015, Depp and Heard marry
The actors married at a private ceremony in their Los Angeles home which was nonetheless reported by People.
2015, Depp and Heard release an apology video following breaking Australian import laws
Following a controversy in which the couple tried to take their two dogs into Australia but ran afoul of the country's strict import laws, Heard and Depp released an apology video.
In the po-faced video the pair acknowledged that Australia has tight biosecurity laws due to its isolated location and ecosystems, with Heard adding:
"I'm truly sorry that Pistol and Boo were not declared, protecting Australia is important."
2015, Depp alleges his finger is cut off during an argument
Depp alleges that whilst in Australia Heard became enraged over his lawyers asking her to sign a prenup. During the course of the argument Depp says the end of his middle finger was sliced off when Heard threw a bottle of vodka at him.
He claims he lied about the incident at the time to protect Heard.
2016, Argument over faecal matter in the bed
In court Depp outlined a final row between the couple which began after he accused Heard of smearing human excrement on his side of their shared bed. The actor says that Heard insisted the incident was down to their small dogs.
The fight deteriorated until, Depp claims, Heard rang her friends and pretended he was hitting her. Soon after this incident, Heard sought a restraining order and was photographed with marks on her face.
Depp testified that Heard said to her friends on the phone, "Stop hitting me Johnny!" even though he was standing nowhere near her.
2016, Heard files for divorce, claiming abuse
Heard filed for divorce from Depp in 2016 alleging he had physically abused her, usually under the influence of drugs and alcohol. Heard specifically referenced one recent event in the filing in which she sustained a bruise to the face after Depp threw a phone at her. This incident was investigated by Los Angeles police and a spokesperson said no crime had taken place.
Depp's representatives said Heard was "attempting to secure a premature financial resolution by alleging abuse."
2017, Divorce settlement of $7 million reached
In a deposition in 2017 Heard rescinded her request for a restraining order and request for spousal support.
The former couple released a joint statement, saying: "Our relationship was intensely passionate and at times volatile, but always bound by love. Neither party has made false accusations for financial gain."
"There was never any intent of physical or emotional harm."
Heard claimed she donated the $7 million settlement to charity.
2017, the divorce is finalised
The divorce was finalised roughly a year after Heard filed in 2017, with Depp retaining his properties (including his private island in the Bahamas) and Heard keeping the dogs she attempted to smuggle into Australia and accused of defecating in the bed.
Both parties signed onto a non-disparagement clause which prevented them from speaking ill of the marriage or divorce process, according to The Hollywood Reporter.
2018, Heard writes op-ed for the Washington Post
Heard wrote the op-ed for Washington Post, the subject of the current libel trial, in 2018. In it she discussed the treatment of domestic abuse victims, saying ""I became a public figure representing domestic abuse, and I felt the full force of our culture's wrath for women who speak out."
2019, Depp files $50 million libel suit against Heard
Depp's suit which set the current lawsuit into action was filed in 2019 and claims that Heard is fabricating the allegations to generate "positive publicity". The suit likewise calls Heard a "perpetrator" of domestic abuse.
In a counterclaim filed that attempted to get Depp's suit dismissed, Heard described scars on her hands and feet from when Depp dragged her through broken glass.
2020, recordings emerge of Heard admitting to attacking Depp
In 2020 the Daily Mail published recordings in which Heard admitted to hitting Depp and the two discussed violence in the relationship.
"I'm sorry that I didn't ... hit you across the face in a proper slap, but I was hitting you, it was not punching you. Babe, you're not punched," Heard said.
"I don't know what the motion of my actual hand was, but you're fine, I did not hurt you, I did not punch you, I was hitting you."
Depp responded: "I left last night. Honestly, I swear to you because I just couldn't take the idea of more physicality, more physical abuse on each other.
"Because had we continued it, it would have gotten f---ing bad. And baby, I told you this once. I'm scared to death we are a f---ing crime scene right now."
Heard then said: "I can't promise you I won't get physical again. God, I f---ing sometimes get so mad I lose it."
July - November 2020, Depp Vs News Group Newspapers
A three-week libel trial took place in the UK in which Depp alleged that he had been defamed by The Sun newspaper, who called him a "wife beater" in reference to his marriage to Heard. Depp brought the action against Dan Wootton, who is the executive editor of The Sun and News Group Newspapers, the publisher.
During the trial Depp received supportive statements from his ex-wife and alleged Heard had defecated in his bed as well as having extramarital affairs with James Franco and Elon Musk.
After three weeks the judge ruled that Wootton's description of events had been accurate.
November 2020, Depp is sacked from 'Fantastic Beasts' franchise
Depp had portrayed Grindelwald the villain of the 'Harry Potter' spin-off series 'Fantastic Beasts' but following his unsuccessful libel action was let go by production company Warner Bros.
The actor said in a statement written on Instagram: "I wish to let you know that I have been asked to resign by Warner Bros. from my role as Grindelwald in 'Fantastic Beasts' and I have respected and agreed to that request.
"I wish to say this. The surreal judgement of the court in the UK will not change my fight to tell the truth and I confirm that I plan to appeal.
"My resolve remains strong and I intend to prove that the allegations against me are false," Depp added. "My life and career will not be defined by this moment in time."
Depp was denied the right to appeal later that month.
April 2022, Depp and Heard's libel case begins in Virginia, USA
Which brings us up to the present day, where the trial continues in the US, who knows what the outcome will be?