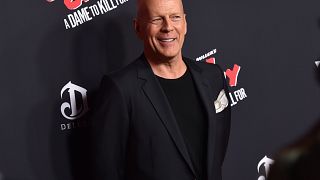 A couple of months ago we published a story detailing the fact that Bruce Willis, an A-Lister for most of his career, appeared to be making an awful lot of films. Films that didn't have the kudos and production heft befitting someone of his quality.
Now we are one step closer to finding out why.
Willis is stepping away from acting after a diagnosis of aphasia, a condition that causes loss of the ability to understand or express speech, his family said Wednesday.
In a statement posted on Willis' Instagram page, the 67-year-old actor's family announced that Willis was recently diagnosed with aphasia and that it is impacting his cognitive abilities.
"As a result of this and with much consideration, Bruce is stepping away from the career that has meant so much to him," read the statement signed by Willis' wife, Emma Heming Willis, his ex-wife Demi Moore, and his five children, Rumer, Scout, Tallulah, Mabel and Evelyn.
"We are moving through this as a strong family unit, and wanted to bring his fans in because we know how much he means to you, as you do to him," they said. "As Bruce always says, 'Live it up' and together we plan to do just that."
There are many potential causes of aphasia. It often occurs after a stroke or head injury, but can also develop gradually due to a slow-growing brain tumor or a disease that causes degenerative damage, like Alzheimer's disease. It's treated primarily with speech therapy and learning non-verbal means of communication.
Willis' family didn't divulge what caused his aphasia. Representatives for the actor declined to comment.
The news about Willis, one of Hollywood's most beloved actors, immediately spread online as fans reacted. His four-decade career has amassed more than $5 billion in box office worldwide.
Debilitating for actors
For an actor, aphasia could pose a huge challenge depending on how severe it is, said Johns Hopkins University cognitive scientist Brenda Rapp, who works with people with the condition.
"You can imagine how frustrating it is if you can't find words, if you can't organize words into sentences, if you can't get your mouth to produce the sounds you want it to produce," Rapp said. "You are still yourself ... but you may not sound like yourself."
For most, the cause is a stroke that has cut off blood to part of the brain. Without oxygen and nutrients, brain cells die, which leads to difficulty retrieving words.
Aphasia does not affect intelligence. Some people improve dramatically in a few months. Others may need to find other ways to communicate. Speech and language therapy can help.
Researchers are looking into new types of speech therapy and noninvasive methods such as a procedure that uses magnetic pulses to stimulate brain cells.
The Effects of Aphasia
"His aphasia has been diagnosed as a degenerative brain disease, which explains how his problems have been getting progressively worse," explains psychiatrist Dr. Carole Lieberman.
Lieberman suggests that Willis may not have realised the degree to which he was deteriorating - either because of denial, or, because of the disease itself or because others were pretending he was fine to prop him up - because he may not have wanted to let others see him in that condition," Lieberman says.
Considering Willis' future, Lieberman isn't optimistic. "There is little chance that Willis will be able to act again because his aphasia symptoms are progressive, and he may even develop further cognitive, motor and behavioural problems."
"But, there are new treatments being discovered every day that can help, so one should never say never."
Recent work
Willis had been working steadily and frequently. Renowned for films like "Die Hard," "Pulp Fiction" and "The Sixth Sense," Willis has in recent years churned out straight-to-video thrillers. Last year, he starred in a staggering eight films. Most came and went quietly, including titles like "Cosmic Sin," "Out of Death" and "Deadlock."
Most recently, Willis starred in February's "Gasoline Alley" and "A Day to Die," released in early March. Willis has already shot at least six more films due out in 2022 and 2023, including "Die Like Lovers," "Corrective Measures" and "The Wrong Place."