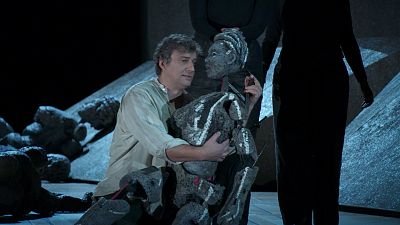 Some operas are as magnificent as a painting. Giuseppe Verdi's works are well known for their multi-layers of tones and moods such as the world-famous opera about the Ethiopian slave Aida. But besides the triumphal march and the broad choirs, a tragedy evolves.
"It deals with deception, jealousy, spurned love, and irrational acts of young people who get carried away with their feelings," explained Jonas Kaufmann, Tenor.
No more pyramids, pharaohs, or elephants. For the production at the Bastille in Paris, the Dutch director Lotte de Beer wanted to leave all stereotypes behind.
Ludovic Tézier, Baryton said, "She started with a kind of distortion that there was in the 19th century between a Europe which had extremely dominant Western powers, and people who were going to be colonized, and therefore there were creaks and tensions between the two. "
"The characters of Aida and Amonasro (her father) are represented by life-sized puppets manipulated by us," said Tézier. "In the performance, they move just like our doublegangers, body doubles, which are at the same time frightening, fascinating and moving, even though they are incapable of being truly alive."
"And it's almost, that I'm a narrator," explained Sondra Radvanovsky, Soprano, "narrating the story and looking at it as a third person."
"For me," Tézier explained, "It's one of this opera's big miracles to appear immense like a sword-and-sandal movie from Hollywood but at the same time contain very intimate and suspense-packed moments as well as psychological ones almost like in a Bergman-Film."
A drama like an epic film. With an end, where the hero is imprisoned in a pyramid for treason. Aida follows her lover into death.
"This moment," added Kaufmann, "where both are having visions, probably due to the lack of oxygen - that heaven is opening now and the tortured soul is finding its way towards it - Well, that's admittedly a bit of an exaggeration until you listen to the music and then everything falls into place."
"I would like to know if Aida was OK with choosing death," added Radvanovsky. "If she's afraid of death or if she embraces it. And if there is a transcendence, if she believes in life after death and that they'll be together in a higher place. I would like to know the next chapter!"