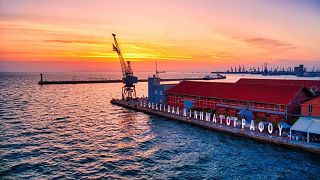 After almost a fortnight on the silver screen, the 59th edition of Thessaloniki International Film Festival has drawn to a close. British photographer Richard Billingham won the top Golden Alexander award for his film 'Ray & Liz'. It's an unsettling portrayal of a family living on the outskirts of Birmingham during the 80s.
More than 80.000 visitors attended this year's event with the majority of screenings sold out.
"A key theme at year's competition was art, notably classical art and how it has inspired artists throughout time and aspiring young Greek artists were invited to create original works based on the films showcased.
"We decided for a second consecutive year to organise this exhibition with the work of 15 young Greek artists. Each of them was inspired by one of the films in the international competition. We believe that cinema is not only cinema. We believe that works of art should interact with each other. Artists should get inspiration from each other. It should be in a constant and creative dialogue," said Orestis Andreadakis, Director Thessaloniki International Film Festival.
Greece's contribution to gay cinema was also recognised. 38 short feature films dating from the late 1960s were screened.
Greek Film Director Constantine Giannaris told Euronews: "For me, gay cinema in Greece is somewhat of a delayed movement, both in political and cinematic terms. Today, hopefully, wenow have some exceptional works of art in this field by cinematographers and artists. Personally, I hope to transform the deficit and create an artistic surplus in the future. Perhaps, we'll even create a new avant-garde."
Elsewhere, one of the festival's biggest tributes went to the experimental films of Chilean artistic duo Cristóbal León and Joaquín Cociña
"We found in film a medium where we can develop all of our interests, like narrative interests, visual interests, like plastic, sculpture, painting, drawing. The stop-motion is especially a field where we can develop all of these interests," said Film Director Christobal Leon.