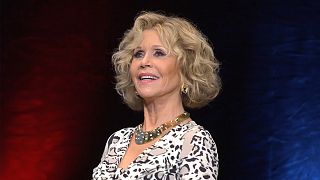 Actress and activist Jane Fonda has been awarded the prestigious Prix Lumiere at the Lumiere Film Festival.
Known for her opposition to the Vietnam war, Fonda performed a song sung by soldiers leaving the army.
The Lumiere sees its share of celebrities but bills itself as a festival for the people - and rightly so. The public is at the heart of the week of masterclasses and screenings in Lyon, the French city known as the birthplace of cinema. The festival was given a fitting tribute from Charlie Chaplin's grandson.
"For me the greatest pleasure is to go back to the source, to the origins of cinema. It's important today, where everything goes so fast, where everything goes too fast, to just stop and look a little at the lessons of the past," said James Thierree.
"It's also a public festival, when we go and see a film we're with the public. And that takes me back to when I was young and dreaming of being an actor," said French star Tahar Rahim.
Javier Bardem was one of the festival's guests of honour, giving a masterclass and presenting five films. He also used the occasion to mount a vigourous defence of Woody Allen, calling him a "genius", and declaring he would work with him again anytime.
Bardem's 2012 documentary 'Sons of the Clouds' looked at the plight of refugees in the Western Sahara, a subject which remains close to his heart.
"Europe should stop cursing and pointing the finger at all these struggling NGOs like Open Arms - with Aquarius - they're saving lives, saving lives is not a crime, saving lives is a human right and they are giving those immigrants who are sinking in the oceans the right to live," he insisted.
As part of her anti-war activism Fonda visited towns near US army bases along with Donald Sutherland in the 1970s. The tour was made into a documentary, 'FTA'.
Thierry Fremaux is the festival's Director:
"It's not the festival which is political, it's the films," says Fremaux.
"Lots of people were unaware that Jane Fonda, in the 1970s, had been extremely militant, phonetapped by the FBI and picked up by the police. She put her status as a star at the service of pacifist convictions," continued Fremaux.
In total 187 films are being screened in some 40 venues across Lyon in what is one of the biggest classic film festivals in the world.
"There is an ocean of films, there is infinite programming because the history of cinema is full of treasures," concluded Fremaux.