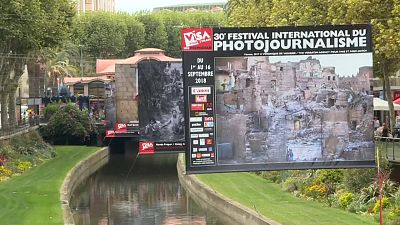 For thirty years the southern French city of Perpignan has been hosting Visa Pour L'image and it's grown to be one of Europe's most important exhibitions for photojournalists.
This year the Rohingya refugee crisis in Myanmar and the war in Yemen are marked out as the worst examples of suffering that currently shame our world.
"Here, we show you the world as it is. With its dramas, its joys, its problems," Jean-François Leroy, the exhibition's co-founder and director, said.
On its website the mission of the exhibition is "to rediscover certain photographers sometimes overlooked, to endorse new talented photographers, and to give an opportunity for young photographers to be seen and make a name."
With photojournalism under pressure from social media, money, or the lack of it, is a pressing problem the exhibition tries to address.
"During the festival, we give more than 130,000 euros to photographers through all our prices. Which is not bad because when you distribute 8,000 euros to a photographer, it allows them to work under on a project under acceptable conditions," Leroy said.
Amongst this year's nominees are Frenchwoman Véronique de Viguerie with "Yemen: the war we are hiding" and Palestinian Khalil Hamra from the Associated Press with "Why Gaza?"