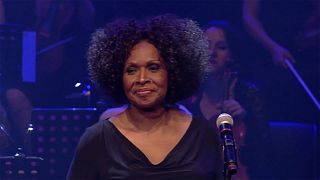 Blues and gospel diva Liz McComb is exploring the world of symphony orchestra. To commemorate that slavery started around 400 years ago in the USA, she wants to bring together the musical heritage of her ancestors, like blues, gospel and jazz, and blend it with that of classical music, a music genre rooted in white European culture.
Liz McComb will perform a mix of classics as well as her own songs at two concerts accompanied by a symphony orchestra in France in September. Euronews was there as she rehearsed for her new programme with the French L'Orchestre de l'Opera en Plein Air with conductor Nicolas Guiraud and pianist Cyril Barbessol.
"It's interesting to bring this different universe of music together because blues (and) gospel are oral traditions. Jazz, soul, blues and gospel musicians improvise. Classical music musicians do not improvise. Classical music is written music and is passed on written. So, I find the confrontation of these two music worlds interesting," Nicolas Guiraud told Euronews.
ROOTS IN GOSPEL
The sixth of seven children, Liz McComb was born in Cleveland in 1952 and grew up in an African-American family that originally came from Mississippi. Her father, a factory worker, died when she was very young. Her mother was very religious, as was the whole family, and she became a preacher and the pastor of a Pentecostal church. Three of her sisters formed a vocal group called The Daughters of Zion, which was very popular in local churches. Many years later, they would sometimes accompany McComb during her concerts. 
McComb started singing in church at the early age of three. At home, the children grew up listening to the great gospel singers: The Staple Singers, Sister Rosetta Tharpe and above all, Mahalia Jackson, who became McComb's idol and her role model. The young girl learned Jackson's entire repertory by heart. In the meantime, her only brother played jazz trumpet and introduced McComb to the great jazz musicians - Louis Armstrong, Charlie Parker and Max Roach as well as Nat King Cole and Sarah Vaughan.
McComb began with violin but decided to switch to the piano, an instrument with which her "heartstrings feel perfectly in tune", in her words. She learned to play the piano on her own and one day she decided to take the plunge and replace her pianist at a moment's notice. Gradually, she became one of the best pianist-singers of her generation. 
LOOKING FOR NEW MUSICAL CHALLENGES
Throughout her career she was always looking for new musical challenges, despite all the differences between gospel, blues, jazz and classical music, for all music is about passion, love and expressing feelings on the stage.
"They are great and they understand, music is the same - they understand that, they understand there is an approach in classical, but they understand when I do a song that is pure blues, he go immediately and play the blues, but only with the music of classical – it's pure, its wonderful," Liz McComb told Euronews.
Liz McComb and the Orchestre de l'Opéra en Plein Air will perform their «Symphonic Spiritual Suite» programme at the Château d'Haroué in the region of Lorraine in north-eastern France on September 2 and at the Cour des Invalides in Paris on September 9. Among the highlights are classics from Duke Ellington, George Gershwin and songs written by Liz McComb herself.