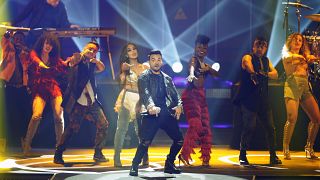 Latin music celebrated a year when it rose to undisputed dominance of the world scene at the Latin Billboard Awards last night.
Highlighting the most international year for Latin music in history, major non-Latin music superstars like Justin Bieber, Beyoncé, and Pharrell Williams were nominated for their features in some of the genre's biggest hits of the year.
'Despacito' by Luis Fonsi featuring Daddy Yankee has over 5 billion views on YouTube, and the remix with Justin Bieber, over 500 million. The song dominated the award show winning six trophies: hot Latin song of the year, vocal event; airplay song of the year; digital song of the year; streaming song of the year; and Latin pop song of the year. A song that many say, revived global interest in Latin music.
Daddy Yankee who was featured in the original and the remix of the song, as well co-writer, went home with eight awards. To be brief, Yankee won Latin rhythm artist of the year, solo, and songwriter of the year for "Despacito" as well as several others.
Justin Bieber who was featured in the song's remix, took home seven awards, including crossover artist of the year, beating Beyoncé, Little Mix, and Ed Sheeran.
The explosion of Latin tracks continued after 'Despacito'. J Balvin's 'Mi Gente' hit featuring Willy Wiliam with 1.5 billion plays on YouTube, was later remixed after its release by the queen herself, Beyoncé.
Other artists such as Ozuna, from Puerto Rico, who won artist of the year, performed 'La Modelo' with New York native Cardi B. Nicky Jam, who won top Latin album of the year, also performed last night. Other star turns came from Malema, Ricky Martin, and J Balvin, and Karol G.
The rise of Latin music comes after a recent introduction of new sounds, specifically 'trap', a sound that dates back to the 1980s from an analogue drum machine. The beats are unique, with a sound that is full of short bursts, at a rapid-fire speed—faster than any human could play.
The trap sound adds new flavour to the already diverse genre of Latin music. The classic reggaeton sound has morphed into a combination, of rap, pop, trap and even dance music.
Artists like the Bad Bunny or as he's known by Latino's, 'El Conejo Malo', from Puerto Rico have mastered this new sound of trap—and the numbers speak for themselves. Bad Bunny teamed up with American Becky G last year for 'Mayores', a Latin pop mix of cumbia and reggaeton that reached over 1 billion views on YouTube as well.
J Balvin and Shakira, both from Colombia topped the nominations list with 12 nominations apiece, with Luis Fonsi, Daddy Yankee, Maluma, and Ozuna with 10 each.
With just over a month until the World Cup, Telemundo Deportes, in honour of the most anticipated event, announced their world premiere 2018 official World Cup song.
Colombian artist J Balvin will sing along to the sound of football, teaming up with Haitian DJ, Michael Brun, to go down in history this summer.
The Spanish network will use this song on its channel during the tournament.
Here's the official teaser to what will soon be one of the most played songs of the summer.