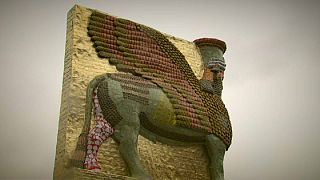 A life-size replica of Lamassu, an Asssyrian bull god went on display in London's Trafalgar Square. It's made by Michael Rakowitz who used 10,000 empty Iraqi date syrup cans, to imitate the original winged bull known as the Lamassu.
A statue of Lamassu stood from about 700 BC on the outskirts of modern-day Mosul, Iraq, until it was destroyed by IS in 2015. This statue is part of an ongoing art project of the Iraqi American artist.
"I began a project about 12 years ago called 'The Invisible Enemy Should Not Exist' that endeavours to reconstruct the more than 8,000 artefacts that were looted from the Iraq museum but has now unfortunately grown to include the archaeological sites around Iraq that were destroyed in its aftermath", said Rakowitz.
The Mayor of London, Sadiq Khan said: "Those people that destroyed the original statues, in my view, weren't Muslims in the way that I understand my faith, they were basically religious fanatics, they were embarking on an act of destruction of cultural heritage based on their insecurities. And I think if you're secure enough in who you are this sort of stuff shouldn't frighten you and I celebrate the culture behind me dating back 700 BC."
This statue on the fourth plinth of London's Trafalgar Square replaces a giant "thumbs up" by David Shrigley and will stay in place until 2020 when it will be replaced by a work by British artist Heather Phillipson