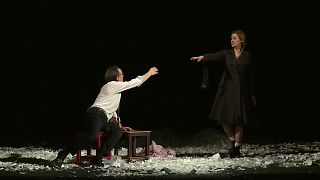 The 11th Winter International Arts Festival in Sochi offers a sophisticated selection. There is music, theatre, opera and ballet as well as a competition for young composers. It's part of the European Festivals Association and one of the largest cultural events in Russia.
Artistic Director and conductor – Yuri Bashmet conductor says: "It is a festival of research, a festival of premiers, a festival of discoveries, of names, a star festival, very star-studded, I mean the participants. Also the educational side is very important."
The Grammy award winning "Moscow Soloists Chamber Ensemble" is conducted by Yuri Bashmet. It features a rare double bass balalaika. Virtuoso Mikhail Dzyudze said he was the first but now bass balalaika inspires young composers.
"This instrument was not created in order to play it solo from the very beginning," he said.
"Nobody would propose it to play a complicated musical piece, and, moreover, with an orchestra! In the twentieth century it was even impossible to imagine that."
Kim Whitener herearts</a>, Bernard Faivre d&#39;Acier <a href="https://twitter.com/BiennaleLyon?ref_src=twsrc%5Etfw">BiennaleLyon and tomcreed1980</a> are the three speakers of the Festival Readings Sochi 2018 which Hugo De Greef is moderating; organized in collaboration with the Winter International Arts Festival <a href="https://t.co/gHEkqtEvLI">https://t.co/gHEkqtEvLI</a> <a href="https://t.co/IqlvLTDATY">pic.twitter.com/IqlvLTDATY</a></p>&mdash; EFA Festival Network (EFA60) February 18, 2018
The American jazz singer Jane Monheit brought to Sochi her programme dedicated to her one and everlasting inspiration, Ella Fitzgerald. Jane has received several Grammy nominations and New York Times wrote that her voice has a "phenomenal beauty".
She says: "I think jazz is a music that a kind of the most wonderful thing about it is that it is so traditional and historic and so modern at the same time, all of it is happening at once".
In a case of history meets modernity: there was Nikolai Gogol's story about a young bride dumped by her groom just before the wedding. It has been performed since 1842.
"Lensoviet" academic theatre from St-Petersburg performed Yuriy Butusov's interpretation of "City. Marriage. Gogol". Watching this performance one may feel there's not much of the comedy left.
Actor Sergey Migitsko, says: "It is a sad play, everyone wants to find a life partner, but it just does not work out."
The Festival Readings Sochi are currently taking place, here is a sneak peak of this intense 3-days training and reflection on artistic festival management with high-level festival makers, in coll with the Winter International Arts Festival. https://t.co/6spDuYsEYKpic.twitter.com/Kk2RfAAtns

—

EFA

Festival Network (@EFA60) February 18, 2018
Anna Kovalchuk, who plays the bride, thinks Gogol describes modern life, when loneliness becomes a choice. She says spectators often say it's their life story.
"The play is about the fact that people are lonely and do not want to unite in one with any other creature, with another man," she says.
"They say they want to meet someone! No, it's intentional, it is a conscious loneliness. Nowadays people do not marry, people selfishly live only for themselves, a marriage or some kind of relationship is first of all about giving, but now no one wants to give, and Gogol, as I think, wrote exactly about this."
But true love still inspires! "Ramona" a story of the love between two soviet trains by the Georgian puppet theatre of Rezo Gabriadze, has been a tremendous success.
The son of the famous director, Leo explained why the public likes it.
"Our dramatic performances are not for children, they are for grown ups. And this mix of puppets and drama, the real drama – that is what makes our theatre unique."
The eleventh Winter International Arts Festival in Sochi started on the 16th and will last till 25th of February.