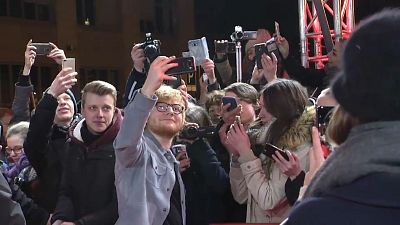 British musician Ed Sheeran is all-but ubiquitous in the music world, and now his cousin Murray Cummings has made documentary about the pop star.
Premiered at the Berlinale Film Festival, it is Cummings' first film. He says he tried to keep an objective distance and not take advantage of the fact they are cousins.
"I think I just have a natural kind of line that I don't wanna cross and I put the camera down when I feel it gets too much. He is very welcoming of me and lets me film quite a lot, so it has never been a big issue, I am very greatful that he is open to a film like this," says Cummings.
It was two years ago that Sheeran and the film director decided to make this documentary, although filming began shortly after Sheeran's first record deal in 2011..
The film covers the period from 2015 when Sheeran came off the "Multiply" tour up to the release of "Divide" last year.