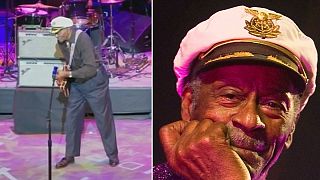 He was one of the founding fathers of rock'n'roll – Chuck Berry passed away in March at the age of 90, leaving behind unforgettable classics like 'Roll Over Beethoven' (1956), 'Rock and Roll Music' (1957) and 'Johnny B. Goode' (1958), as well as his famous duck walk.
Chuck Berry duck walk #RockAndRollIn4Wordspic.twitter.com/5Lwol5f7lc

— Ghost Traveller (@cityrider49) 2 avril 2017
'Hair' turns 50 – A product of the hippie counterculture and sexual revolution of the late 1960's, the rock musical has been performed the world over – a special anniversary show is currently running at London's Vaults theatre.
Singer, songwriter and actor Chester Bennington was best known as the lead singer of US rock band Linkin Park. After suffering from drug and alcohol abuse most of his life, he committed suicide at the age of 41 in July.
A historical moment for Portugal at this year's Eurovision song contest. Twenty-seven-year old Salvador Sobral won with his ballade 'Amar pelos dois', marking Portugal's first ever win in the contest.
Rolling Stones legend Ronnie Wood turned 70 in June – the iconic guitarist was back on stage with his band in the autumn for a Europe tour after a four-month battle with cancer.
My lung cancer horror, by Ronnie Woods | https://t.co/TPfz0cAcz8 If you R a Rolling Stones or an art fan, interesting read #PAp2

— Conga1 (Conga1) 9 août 2017
The Beatles' legendary album 'Sgt. Pepper's Lonely Hearts Club Band' celebrated its 50th anniversary this year. An immediate success upon release, the album spent 27 weeks at the top of the UK albums chart.
Playboy founder Hugh Hefner passed away at the age of 91 in September. A successful businessman famous for his lavish lifestyle and magazines, Hefner saw himself as an advocate of sexual liberation and freedom of expression.
The Nobel prize in literature went to Nagasaki-born British novelist, screenwriter, and short story writer Kazuo Ishiguro, widely considered one of the most celebrated contemporary fiction authors in the English-speaking world.
He inspired the likes of Elvis Presley and Bob Marley – Rock'n'Roll, boogie woogie genius "Fats Domino":https://www.rollingstone.com/music/news/fats-domino-rock-and-roll-pioneer-dead-at-89-w473594 departed in October at the age of 89. His 1949 'The Fat Man' is widely regarded as the first million-selling rock'n'roll record.
It was considered 'degenerate art' by the Nazis. Works hoarded by the son of Nazi art dealer Hildebrand Gurlitt including pieces by Picasso, Matisse and Klee went on public display for the first time in decades in joint exhibitions in Germany and Switzerland.
Leonardo da Vinci's long-lost Salvator Mundi became the most expensive art work in the world – Sold at a Christie's auction for just over 400 million dollars, it was bought on behalf of Abu Dhabi's Department of Culture and Tourism.
He was one of the biggest teen idols and pop singers of the Seventies – David Cassidy, who shot to fame with TV musical sitcom 'The Partridge Family', died at the age of 67 in November.
The Pink Promise Diamond became one of the most expensive diamonds sold on the Asian market, fetching more than 30 million dollars at a November auction in Hong Kong. At nearly 15 carats, the precious stone was described as "the Picasso of the pink diamond world".
And the death of Johnny Hallyday, known as the French Elvis, led to a national outpouring of grief in France. The musician who died of cancer at the age of 74, had released nearly a thousand songs over a career spanning six decades. President Emmanuel Macron was among those who paid homage to the rock star.
Tens of thousands of people said goodbye and "Merci, Johnny" to the French rocker Johnny Hallyday in Paris https://t.co/NIAg0tdWJa

— The New York Times (@nytimes) 10 décembre 2017