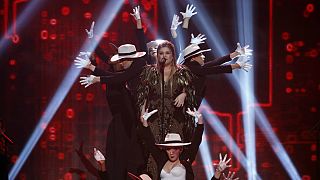 Bruno Mars dominated this years American Music awards with a total of seven trophies
Besides Favorite Male Pop/Rock Artist of the Year, the 32 year old from Honolulu, Hawaii was also honored as best Soul/R&B artist, best Pop/Rock album "24K Magic", best Soul/R&B album and Video of the Year and Favorite Song Soul/R&B for "That's What I Like."
Mars, in the middle of a world tour, thanked the fans in a video message.
"Thank you hooligans, we did it, I know it's because of you. thank you for voting for me, I love you guys more than anything," he gushed.
Lady Gaga was selected by music fans as Favourite Female Pop/Rock artist. She also sent a video message to thank her fans from Washington D.C. where she was playing a concert.
"I have the best fans in the whole world. I am so lucky. You just remember that if you feel different or you feel not understood, don't you dare give up on who you are. You fight like hell for what you believe in."
Country musician and husband of Nicole Kidman Keith Urban received three tributes including Favorite Male Artist – Country, as well as Favorite Country Album, (Ripcord), and Favorite Country Song, ("Blue Ain't Your Color").
Legend Diana Ross was honoured with a lifetime achivement award, and former US President Barack Obama and his wife congratulated the 73-year-old in a video message.
The Amercian Music Awards were given out for the first time in 1974 and the winners are determined by a poll of the public and fans, who can vote through the AMA's website