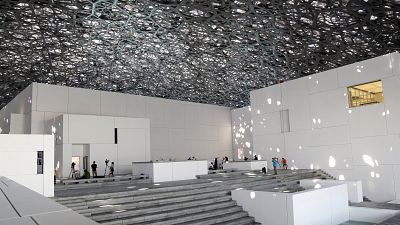 It's taken ten years but the Louvre Abu Dhabi is finally open. It sits under a honeycombed dome of eight layers of Arab-style geometric shapes and draws in the lapping waters of the Persian Gulf.
4 days. Soaring towards #LouvreAbuDhabi's dome,Penone's 'Leaves of Light' is a symbol of life.Purchase your tickets https://t.co/wfNRNGlwL1pic.twitter.com/YJT0yDBaLa

— Louvre Abu Dhabi (@LouvreAbuDhabi) November 7, 2017
The Museum's cost is unknown but Abu Dhabi has agreed to pay France $525 million to use the 'Louvre' name for the next 30 years,
French architect Jean Nouvel says he was inspired by the landscape.
"The idea was to create an Arabian agora and a place where you come when you come back, when you talk about culture, about art," he explains. "And not a box with an entrance and a classification only."
One of the first artworks a visitor sees is a two-headed Neolithic statue from Jordan, one of the oldest known in human history. Just one of the 900 works on display.
And up goes the art…Can you believe it? In 5 days, you can discover your favourite masterpieces at our galleries. https://t.co/o1l560FHwQpic.twitter.com/kN9bmEtVCY

— Louvre Abu Dhabi (@LouvreAbuDhabi) November 6, 2017
The museum exhibit ends with a commissioned work, A Foundation of Light, by Chinese artist Ai Weiwei , an illuminated work of steel and glass that recalls the museum's gleam at night.
The Louvre Abu Dhabi opens this weekend.
It is hoped the museum will help position the city as a centre of cultural tourism with a display of hundreds of works that will draw visitors from around the world.