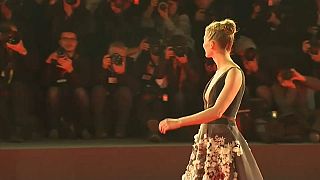 The Rome Film Festival opened its 12th edition with Scott Cooper's new film "Hostiles".
The director presented the western film in the Italian capital with its stars Rosamund Pike and Wes Studi.
The movie is a violent tale of hate and reconciliation between whites and native Americans in the west in the late 1800s.
Film director Cooper said that he hopes the film will start a conversation in today's divided America about topics such as inclusion and reconciliation.
"I really wanted a part of that (tradition of Westerns). I wanted the majesty of the American West, I wanted the landscape of the American West."
"But I mostly wanted to tell a very human and very contemporary story about this vast racial and cultural divide that exists in America today, and is getting wider by the day."
"This is a film about reconciliation and if there's any way that my film can start a conversation about that I feel like I've done my part."
In the movie which inspired by the cinematic tradition of John Ford, Christian Bale plays an US Army captain who is trained to hate native Americans and has spent all his career fighting North American tribes who is ordered to escort a dying Cheyenne chief (Studi) and his family from New Mexico back to his sacred tribal lands in Montana.
On the way, they meet a young widow, Rosalie Quaid (Pike), whose entire family has been murdered by Comanche tribes.
Together, they must fight to stay alive on the treacherous thousand-mile journey with enemies coming from all sides.
Thirty-one countries are participating in the 12th edition of the Rome Film Fest.
There are a total of 39 films and documentaries in the official competition.
The festival runs through November 5th; special events include conversations with actors Vanessa Redgrave, and Sir Ian Mckellan and a career award to filmmaker David Lynch.