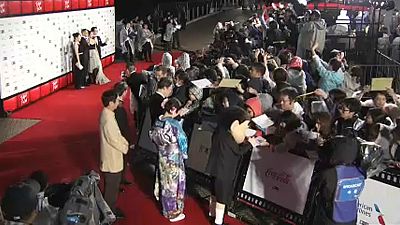 The Tokyo International Film Festival has opened with filmmakers, cast members and special guests walking down the red carpet in Roppongi, downtown Tokyo.
American actor/director Tommy Lee Jones is the president of a five-member jury which will judge the 15 entries in the international competition
This edition of the festival is also to commemorate the diplomatic tug-of-war between Asia's two economic giants, Japan and China, with various Chinese films being shown to mark 45 years of diplomatic relations. Amongst the films shown is 'The Legend of the Demon Cat'.
This fantasy mystery is directed by one of China's most esteemed filmmakers, Chen Kaige, ( known for "Farewell My Concubine", the 1993 Palme d'Or winner at the Cannes Film Festival and "Together" the 2002 Silver Seashell for Best Director at the San Sebastián International Film Festival.) It is a rare official China-Japan co-production, with a mixed Japanese and Chinese cast, and based on a Japanese novel.
As Japanese films rack up record earnings at the Chinese box office, a large bloc of content-hungry Chinese buyers is expected at this year's film market: TIFFCOM
The Tokyo Film Festival will showcase over 200 movies from all over the world until the 3rd November.