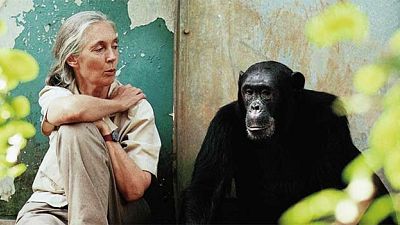 A new National Geographic documentary on pioneering British primatologist Jane Goodall has premiered in Hollywood.
Simply titled "Jane", the film draws on 140 hours of unseen footage of her studying chimpanzees in Tanzania in the sixties.
Watch the moment Jane Goodall redefined what it means to be human. #Jane will be released in select theaters starting October 20. pic.twitter.com/T67gs5J1qg

— Nat Geo Channel (@NatGeoChannel) October 5, 2017
"He's created a documentary that takes me right back into the person I was in the forest in the best days of my life," Goodall said of her director Brett Morgen at the premiere.
Now 83, Goodall still campaigns for chimpanzees whose numbers have plummeted.
According to her Jane Goodall Institute there are as few as 340,000 alive today – down from around a million in 1900.
The film can be seen in Europe at the London Film Festival and will be in US cinemas from the 20th of October.