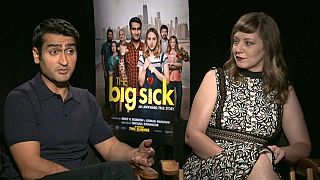 The Big Sick' is romantic comedy with a laugh out loud script.
Kumail Nanjiani plays a Pakistani American making his way in stand-up comedy.
He falls for Emily, Zoe Kazan, and cultural differences and family values begin to intrude.
Nanjiani co-wrote the film with his wife Emily V. Gordon:
"We just wanted to tell our story and make it timeless. It just so happens that it's coming at a time where it's a hot button issue," said Emily.
Kumail pipes up:"Yeah, I guess one of the happy side effects is that people will see a Muslim family that is not generally seen in…"
"Pop culture," interjects Emily.
"American pop culture," retorts Kumail.
Illness intervenes and true feelings are exposed.