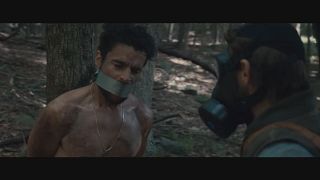 A new independent horror movie is making a buzz at the box office, jostling big Hollywood blockbusters such as The Mummy for ticket sales as cinema-goers and critics praise the psychological thriller.
Set in the near future after a disastrous epidemic has gripped the world, It Comes at Night is the latest offering from 28-year-old writer and director Trey Edward Shults, who rose to prominence with his critically-acclaimed short film "Krisha" – an independent film made on a budget of just $30,000.
A pitch-black nerve-shredder that will burrow under your skin and stay there. This weekend, experience #ItComesAtNight — Now Playing! pic.twitter.com/EYOhIyph5s

— It Comes At Night (@ItComesAtNight) June 16, 2017
For his latest film, which had a production budget of just $2.4 million, Schults drew on his own experiences of loss for inspiration.
He told Reuters: "It really comes from losing my dad and my dad's death. The opening scene of the movie, what Sarah is telling her dad is what I said to my dad on his deathbed and he was full of fear and regret and he didn't want to let go. It was a traumatic thing that changed my life and two months after that I wrote this script and it like spewed out of me in three days."
The film has already made a profit and will hope to rake in millions when it opens globally later this month.
Starring Joel Edgerton, Christopher Abbott, and Carmen Ejogo, the film centres around the life of Paul, his wife Sarah, and their teenage son Travis who have secluded themselves in a country home.
The movie takes a dark turn after they invite another family in, one act of kindness that ends with terrible consequences.