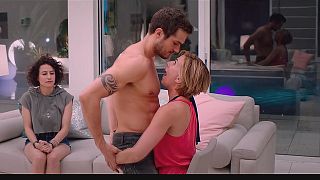 A girls' night out that turns into a nightmare is the scenario for a new film starring Scarlett Johansson which has premiered in New York.
Five best friends from college reunite but accidentally kill a male stripper in "Rough Night", a comedy by Lucia Aniello and Paul Downs.
Scarlett Johansson said: "It's like broad comedy. It certainly has an incredible female ensemble in it and I think some of the funniest women out there in this film.
"But I think Lucia and Paul write jokes not for men, not for women, but for people. It very much feels like a film that my brother would enjoy as well as any of my girlfriends."
Johansson is joined by Kate McKinnon, Jillian Bell, Llana Glazer and Zoe Kravitz. Demi Moore also has a small role.
Moore said: "I'm so happy that they asked me to do it. I had so much fun. They're incredibly smart, and it was a really smart script and what we were able to do once we were on set was even better."
Rough Night is now on worldwide release.